UAE
UAE 4-0 Laos: Edgardo Bauza off to winning start as Al Mabkhout scores brace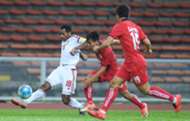 New UAE national team coach Edgardo Bauza won his first match in charge as Laos were dispatched 4-0 in an international friendly on Wednesday. 
Ali Mabkhout scored twice while Ahmed Khalil and Tariq Ahmed got on the score sheet as well to round up a comfortable victory at Shah Alam Stadium in Malaysia. 
Initially, UAE were meant to play Lebanon but Laos stepped in when the match had to be cancelled. 
Bauza will no doubt be please with starting his tenure with an emphatic win but the real test lies ahead as UAE face Thailand in their World Cup qualifier on June 13.
The Whites are in fourth place in Group B of the 2018 World Cup qualifiers with nine points from seven matches while Japan and Saudi Arabia lead the way at the top with 16 points a piece. 
UAE however will have set their sights on catching third place Australia on 13 points who take on Saudi Arabia on Thursday. 
While the top two teams from the group will qualify for the World Cup, the third-placed team will compete in a playoff game to earn the ticket for the inter-continental playoff.
Mathematically, UAE still stand a chance but will have to win all of their remaining fixtures, a daunting task to say the least.
Their final two games in the qualifying campaign will be against Saudi Arabia and>