U17 World Cup
U17 World Cup: USA coach John Hackworth - 'This is the best team I have ever had'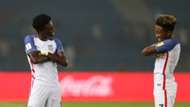 The USA U-17 team will lock horns with England in the quarter-final clash of the FIFA U-17 World Cup at the Fatorda Stadium in Goa on Saturday.
While this won't be a first-time meeting, USA's quarter-final progression is definitely something to cherish for coach John Hackworth and striker Andrew Carleton.
"We know England very well. This age group has played them four times so we're pretty familiar with each other. We're going to have a tremendous game one way or another. Two teams that have a similar style so we expect to have a really good contest tomorrow" said Hackworth, who also went on to add that this group of U-17 players is the best team he has coached.
"This is the first time that a US team has won a knockout game since the '99 World Cup. I have said it for a long time. This is a team full of talent and what I consider good character. They are fun to work with. They compete like crazy with each other. They want to be pushed and when I push them they usually answer the call. This is the best team I've ever had."
Team USA have been hitting the net for fun in the tournament so far, sending five goals past Paraguay in the Round-of-16 to book their place in the last eight and coach Hackworth said that this style of play is something that his team have been working on.
"It's something that we have really worked hard on in the past 5-10 years. Often times it is hard to have the same style with the full national team. On the youth national team, we all try to play by the same principles. We have a set of principles that are important for player development."
PSG's Timothy Weah stole the show the last time USA U-17 took the field but Andrew Carleton has been ever-present for his side throughout. The Atalanta United forward has high hopes for the current USA U17 squad.
"I have been blessed that Atalanta United play a very similar style to what we do here with the U17 national team. I think playing against professionals day in and day out has helped me grow both on and off the field."
"The first team [senior USMNT] not qualifying for the World Cup is a disappointment. We have talked about it within the team, just trying to bring belief back to the US soccer system. We all believe that we can go on and move on to the senior team and bring the team back to World Cup success"