Nigeria v Congo DR
Twitter slams 'uninspiring' Super Eagles after Congo DR draw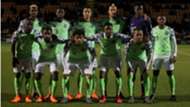 Nigeria's 1-1 draw against DR Congo at the Adokiye Amiesimake Stadium on Monday has got football enthusiasts fuming about the country's chances at the 2018 Fifa World Cup.
William Troost-Ekong broke the deadlock in the in the 14th minute before Ben Malango rescued Florent Ibenge's charges from defeat with his 78th minute effort from the penalty spot.
And the stalemate left fans disappointed by the Super Eagles who are preparing to make their sixth World Cup appearance in Russia.
FT: Nigeria 1-1 Congo DR

Uninspiring showing by the Super Eagles in their last home game before leaving for the World Cup.

Have a lot to do in the two friendlies against England and the Czech Republic if they hope to make an impact in Russia.

— Prince Narkortu Teye (@TeyePrince) May 28, 2018
Just watched the "super eagles" of Nigeria play DR Congo and I can logically say that they will be dismantled at the world cup pic.twitter.com/ea1FjgxZN2

— Pav_teen (@Ehiz672) May 28, 2018
I am Just looking for something super about these eagles. pic.twitter.com/DagolmqauV

— Abidemi Adesokan (@Abi_demi) May 28, 2018
A very shabby performance on the side of super Eagles.

— Horny Bird 🇳🇬 (@pettixe) May 28, 2018
Is this your Super Eagles? 😂

— Abdul (@emmysulesad) May 28, 2018
These Super Eagles players that are struggling with Congo DR. Is this how you are going face Argentina in the World Cup? Chukwu ekwekwana!

— Ogbonna Mba (@OgbonnaMba) May 28, 2018
NOT so Super an Eagle😕

— NIYI (@Niyih) May 28, 2018
That was a poor performance from the Super Eagles.

— Ayòmídé Joe (@Ayomidejoe) May 28, 2018
Is this your Super Eagles?

— #ConteOut (@SHEYHEAR) May 28, 2018
I think the Super eagles performed poorly tho..

— Sideso Komeh (@sidiuskomeh) May 28, 2018
I think it's weird how the Super eagles "team B" played better than the squad going to the World Cup 🤔 #FlyEaglesFly

— Pillah Josemaria (@tivnande) May 28, 2018
1-1 full time. Not so good from the super eagles

— oba (@oba_richard) May 28, 2018
Super eagles World Cup team can't win Congo at home.. Smh pic.twitter.com/xkxnmKyKZ4

— Danas Blowayzz (@KingDanas) May 28, 2018
Super Eagles of Nigeria performed below average. So sad!

— naijacircuit (@naijacircuit) May 28, 2018