UEFA Champions League
Tottenham's saviour: Kane can again prove his worth to Spurs in Champions League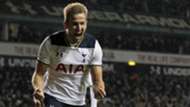 ---
COMMENT
---
Much has been said regarding Harry Kane's importance to Maurcio Pochettino this season. Though Tottenham went into their recent clash with West Ham still unbeaten, they'd managed just 15 goals in their opening 11 Premier League fixtures – fewer than Crystal Palace who were 16th in the table. Their spot in the top five was a result of their steely defensive displays, though the absence of Kane leading the frontline had seen more draws than wins.
Ronaldo: Griezmann said he hates me!
Two late strikes from the 23-year-old against London rivals West Ham on Saturday was the difference between despair and jubilation for Spurs fans, ending their seven-game winless streak and closing the gap to top spot to just four points.
There's no questioning that Kane is Pochettino's saviour, and he has the chance to reinforce his importance to his boss against Monaco in the Champions League on Wednesday.
Kane has scored five goals in his last five Premier League outings, but has been limited to just one appearance in Europe this season due to an ankle injury. Makeshift striker Heung-Min Son has slotted into a more central role, while Vincent Janssen's shortcomings have only been magnified by his increased importance. Christian Eriksen has also suffered a creativity lull this season, making it harder for the remaining forwards to make an impact.
But with Kane's return comes a ferocious determination and an energy infectious to his team-mates. This, paired with his accuracy in front of goal provides Spurs with the hope needed to squeeze into the knockout stages of the competition – Kane's five league goals have come from just eight shots on target.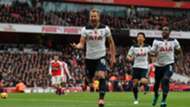 Monaco sit pretty at the top of Group E on eight points knowing a win at Stade Louis II on Tuesday will book their place in the final 16. Should Pochettino's side return to London with a win, though, they will be just a point behind while Bayer Leverkusen could assume top spot with a win against CSKA Moscow. Spurs need the victory, and Kane knows he will have to be at the forefront of the battle.
Kane's aerial presence provides Spurs with an out-ball and his athleticism and power when striding up-field is something neither Janssen nor Son can compete with. Kane has won 15 headers this season compared to the aforementioned stand-ins' three apiece, in considerably fewer appearances.
'Arsenal pressure too much for Mkhitaryan'
His ability to hold the ball and invite surrounding team-mates into the game is also something which improves the flow to Spurs' attacking phases, allowing the likes of Dele Alli to thrive.
The all-encompassing performances of Kane have naturally perked the ears of the supposed bigwigs of European football, with Jose Mourinho reportedly interested in making him a Manchester United player in the summer. Kane has been quick to dismiss a potential White Hart Lane exit, and rightly so.
At 23 years of age, Kane has the adoring fan-base of his childhood club at his feet. He is the focal point of a young, refreshing group of players led by one of the most exciting managers in European football with the chance of fighting for the Premier League title once more, and will be hoping to get near his Golden Boot-winning 25 goals of last season. Kane is also almost guaranteed Champions League football with an ever-improving squad, while the expectations of Manchester United create a revolving cycle of so-called failure. Kane can do no wrong at White Hart Lane.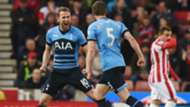 "A lot of people are going to speculate about contracts but I am happy," he said following the West Ham victory. "There are not many better feelings than being at White Hart Lane and scoring in a London derby. I am happy at the club and want to be here for a long, long time.
"We are in talks regarding a new contract and I'm sure we will get something sorted. I'm not panicking. We're having a conversation and I have no doubts that we will get it sorted. As I say, I want to be here for a long time and I am sure I will. I am happy here.
"I am fully concentrated on playing for Tottenham and winning for Tottenham."
Messi vs Neymar for Puskas award
The final line of the interview is the most telling. Kane's unrelenting desire to win games for Spurs is evident whenever he hits the back of the net, if not when harrying opponents or encouraging team-mates.
Spurs' task in hand is a considerable one, with Monaco being unbeaten in their last seven Champions League fixtures – including their 2-1 win over Spurs in the reverse fixture – and the north London side's failings in front of goal. But Pochettino has his talisman back and the opportunity to overturn the odds is one Kane will be relishing.