Premier League
Tony Yeboah reveals how bribery forced him out of football
12:11 AM GMT+8
15/06/2018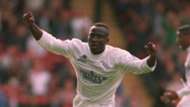 Former Ghana striker Tony Yeboah says underhand activities in the local game led to his decision to quit football administration. 
After hanging up his boots, the ex-Leeds United forward went into football management, forming a club he named by his renowned moniker 'Yegoala'.
The team, however, has been missing from the scene since 2014 as it was sold off after some struggles in the lower division. 
"I once told a referee in an away game to officiate fairly but to my surprise, he asked if I was a novice in Ghana's league," Yeboah was quoted as saying by Agyenkwa FM. 
"Some of my players used to come to inform me about referees' [requests] for bribes [in order for us to] continue to be in the league.
"But I told the players to play with their strength.
"If I didn't quit, I would have fallen victim of bribery allegations."
Yeboah was speaking in the wake of the recent corruption and match-fixing scandal engulfing the Ghana Football Association.