Tom Rogić
'I think he'll still move'- Scott McDonald predicts big money move for Tom Rogic
10:15 AM GMT+8
26/05/2018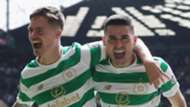 Tom Rogic's decision to sign a five-year contract extension with Scottish side Celtic this month took some Australians by surprise with a few hoping the Socceroos midfielder would pursue rumoured opportunities in the English Premier League.
The former Central Coast Mariner has been on Celtic's books since 2013 and has become an integral part of Brendan Roger's side in recent years as they dominate Scottish football.
Despite initially stalling on a contract extension, Rogic ultimately put pen to paper on a long-term deal with Celtic that left some questioning the 25-year-old's ambition.
Fellow Australian Scott McDonald himself spent three successful seasons at Celtic between 2007 and 2010 before being bought for a then hefty fee by English Championship side Middlesbrough.
Though the length of Rogic's new contract suggests he's happy in Scotland, McDonald stressed it can also be seen as the catalyst of a more lucrative move for both club and player in the near future.
"What it allows is, one for him to get a better package, and two if a team does come calling, it allows then Celtic to go and get that transfer fee up," McDonald told The Daily Football Show.
"It's a win win for both.
"I think he'll still move. The five years ties him down to the club but if Tommy's still doing what he is, I imagine another year or even sooner someone jumping in and paying big money for him."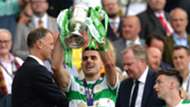 Having himself spent a good chunk of his career in Scotland, McDonald hit out at those questioning Rogic's decision to stay in Scotland - for the time being at least. 
"I think it's a little bit of a cop out," he said.
"Look you play for Celtic they're one of the biggest clubs in the world…people don't understand that and the attention all around the world you get from that.
"In terms of playing under a manager like Brendan Rodgers, there's not many out there better at the moment. And to go on and win every trophy out there, it's what you aspire to do as a footballer -you want to win things.
"Don't get me wrong you want to test yourself at the highest level...well he's been playing in the Champions league has he not?
"So it's quite easy for everyone to say, 'Oh go down to the EPL, do this, do that' but things at the moment are really good for Tom and I can see why he's signed there again."