Malaysia
TMJ gives full control to TCH on Malaysia NT matters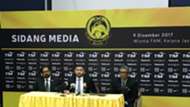 Football Association of Malaysia (FAM) completed their 3rd executive committee meeting in Kuala Lumpur as the national body also announced a multi million ringgit sponsorship deal with Yakult Malaysia that is worth a total of RM3.9 million over the course of three years.
Having promoted Tan Cheng Hoe to the post of national team head coach following the resignation of Nelo Vingada, HRH Tunku Ismail Sultan Ibrahim the president of FAM said that the decision on the few vacant positions in the coaching staff would down to the former assistant coach.
"Right now he's the most suitable one for the job and I hope he does well. I don't have a high target for him. The first target is to change the mindset, have a winning mentality."
"It is up to Tan Cheng Hoe who he wants to bring in. He will have full freedom and support from FAM," said TMJ in the press conference.
On top of that, TMJ also expressed his disappointment over supposed player power that clouds not only the national team but also other teams within the country. 
TMJ wants each team to work towards weeding out these individuals so that the teams will not have unnecessary influences that can impact the teams.
In the press conference, TMJ is hopeful that the newly created Division 4 and 5 leagues would help create a better pool of players for the future of the national team.