European Championship
The Euros curse: England's abysmal opening game record in European Championship history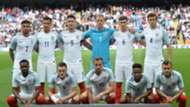 The wait is almost over as England get ready to open up their Euro 2016 campaign against Russia at Stade Velodrome this evening.
Roy Hodgson's men have impressed en route to France, powering their way to 10 wins from as many games to become the only side to book qualification with a 100 percent record.
There are plenty of signs there to suggest England can greatly improve on their dismal display at the 2014 World Cup in Brazil - the last major international competition they entered.
And there is no better way to rubber-stamp that belief than securing victory in the opening encounter - something England have never managed to do in the competition's history.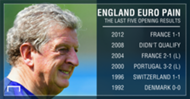 England's first ever European Championship finals affair ended in a 1-0 defeat thanks to Yugoslavia's Dragan Dzajic and since then they have never managed to break their opening match hoodoo.
The Three Lions have taken part in a further seven European Championships since 1968 but victory has evaded them in each of their opening contests, drawing four times while suffering three defeats.
England shared the opening game spoils with Belgium in 1980 (1-1), Denmark in 1992 (0-0), Switzerland in 1996 (1-1) and, most recently, France in 2012 (1-1).
And their three defeats since Yugoslavia in 1968 have come against Republic of Ireland in 1988 (1-0), Portugal in 2000 (3-2) and France in 2004 (2-1).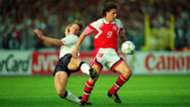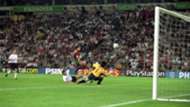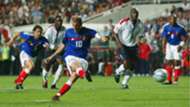 A key statistic that crops up when looking at England's opening game record is that every time they have scored in a particular match, they have done so first and never managed to hold on to earn that all-important, history-making victory.
From racing into a two-goal lead thanks to Paul Scholes and Steve McManaman only to lose 3-2 to Portugal in 2000, to Zinedine Zidane scoring a last-gasp double to cancel out Frank Lampard in 2004, failure to keep the back door shut when in front has haunted England to date.