Goal United
Thabo Mngomeni: Why Milutin Sredojevic will revive Orlando Pirates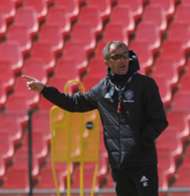 Legendary Orlando Pirates midfielder Thabo Mngomeni believes newly appointed head coach Milutin 'Micho' Sredojevic has the ability to revive the team.
"I think Micho will bring back the glory days to Pirates because he is a good motivator and he is someone that can bring back the spark and lift the morale of the players," Mngomeni told Goal.
The issue over the last few months that became prevalent is the attitude and ill-discipline amongst the Bucs players.
Furthermore, previous coach Kjell Jonevret highlighted the lack of quality in the team as a reason for the team's decline, but Mngomeni differs saying they have a pool of quality players.
"The problem is not the players. Pirates have a good pool of quality players. The only problem is they haven't found the right ingredients yet and way of playing," he said.
Earlier this week, they released six players, while Oupa Manyisa and Brighton Mhlongo have been the high-profile departures as they joined Mamelodi Sundowns and Chippa United respectively.
"I think 'Micho' can make the players function as a unit again, but it's up to the players to lift up their hands and show that they deserve to play for the club," Mngomeni concluded.