Selangor
Tengku Amir to focus on financial independence, raising Selangor's value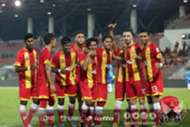 ---
BY        ZULHILMI ZAINAL       Follow on Twitter
---
In a media appearance held ahead of his impending takeover of the Selangor FA (FAS) presidency, the Raja Muda (Crown Prince) of the state of Selangor, Tengku Amir Shah Ibni Sultan Sharafuddin Idris Shah has outlined his initial objectives for the association.
Current FAS president Datuk Seri Subahan Kamal late last month announced that he will be stepping down from the post on July 3, and that the 27-year old Tengku Amir will succeed him as FAS chief.
When fielding questions by the press on Wednesday, the crown prince said that he wants to take the Red Giants to the international stage, in order to attract commercial investors.
"I want to make FAS (Selangor) compete for championships and trophies every year... The biggest goal is to take FAS to the international stage, that would be awesome.
"But we also have to be realistic; the more money we have, the more money that I can bring into the club, there is a better chance for that to happen. Right now, I have to show to the corporate world that there is value in FAS, in sponsoring a football team.
"I also told the Selangor state government, that hopefully within the next five years, FAS is no longer dependent on state funding. That is my goal, that we can be self-sustaining, and become a commercially viable club," he explained.
However, the royalty has also asked for time to implement his vision.
"It took me awhile before I joined (FAS), but the important thing is to be patient. Everyone will have to be patient.
"It won't be like on July 3, a switch will be flipped and Selangor will be champions all of a sudden. It will be a progress, I will find out about the main issues; regarding the club structure and finances," remarked Tengku Amir.
A post shared by Goal Malaysia (@goal_malaysia) on Jun 27, 2018 at 9:52am PDT