Sydney
Sydney FC - Is it time to push the panic button?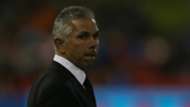 You would have to be borderline moronic to have thought Sydney FC could have the same success under Steve Corica that they had under Graham Arnold - at least initially.
This is no slight on Corica, who is still making his way as a senior A-League coach, but an acknowledgement of the revolution at the harbour club over the pre-season.
Not only did the Sky Blues change their manager, they significantly altered their playing personnel and are hosting their home games at three unfamiliar venues.
There is an example of a team that is undergoing a similar transition and it's not pretty viewing if you are a Sydney FC fan.
Western Sydney Wanderers moved away from their Parramatta Stadium for its redevelopment at the start of 2016-17, and while they scraped into the finals that season under Tony Popovic, have struggled at a variety of home venues with two different coaches since.
While this campaign appeared to start well for the Sky Blues under Corica, the warning signs were already there despite FFA Cup grand final qualification.
Corica's men were shipping goals to NPL clubs in the competition and were also dominated by Victorian side Avondale FC for long periods in the quarter-final.
Trent Buhagiar was Sydney's best player throughout pre-season and when he went down with an ACL injury on the eve of the A-League starting, it was a huge blow to the club.
It didn't get any easier in the early stages of the campaign with marquee playmaker Siem de Jong injuring his hamstring, meaning the Sky Blues were now light on two starting attackers.
Alex Brosque and Paulo Retre proved to be solid replacements early on - but how long was this going to last?
Brosque is a 35-year-old veteran who was considering retiring at the end of last season, while Retre is a 25-year-old journeyman of three different A-League clubs already.
Of their new acquisitions, only Adam Le Fondre has been impressive - with the Englishman banging in six goals in seven league matches.
Dutch signing Jop van der Linden has looked increasingly shaky at the back and on multiple occasions been directly at fault for goals, while Danny De Silva is being kept out of the starting line up by Retre and needs to lift his game considerably.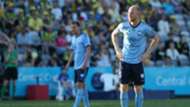 Aside from possibly Le Fondre, none of the Sky Blue's signings appear to have the capability to perform as strongly as Johnny Warren medallist Adrian Mierzejewski and golden boot winner Bobo.
The mechanics of this Sydney FC team are not working and it's the reason behind their FFA cup final defeat to Adelaide United and two consecutive losses at home to Melbourne Victory and Wellington Phoenix.
To put this in perspective, Sydney lost one home match during the regular season in Arnold's last two seasons in charge of the club.
And here is the underlying problem, Corica is on a hiding to nothing to compete with the incredible acheivements earned by his predecessor.
While the club internally may understand this, and will likely give Corica time to put his stamp on the club, it's going to be a bitter pill to swallow for Sydney FC's previously success-drenched fans.
The narrative will contribute to the build up for this week's Sydney derby - a fixture the Sky Blues have dominated with the Wanderers only winning once since 2013.
A poor performance and result in NSW's premier fixture will signal a difficult season ahead for Corica and Sydney FC, while a victory could help build confidence and momentum.
It isn't time to push the panic button just yet but it's clear the skies aren't very blue at Sydney FC at the present moment.
Luckily for them, as the Wanderers showed a few seasons ago, you can qualify for the finals with as little as eight wins, and Corica has already picked up three to date.