AIFF Super Cup
Super Cup 2018: FC Pune City's Ranko Popovic - All I-League clubs are really motivated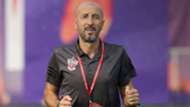 FC Pune City and Shillong Lajong will lock horns in a Round of 16 fixture of the 2018 Super Cup played at the Kalinga stadium in Bhubaneswar, Odisha, on Wednesday evening.
The two sides would get set for the sixth clash between an Indian Super League (ISL) team facing their counterpart from the I-League in the ongoing knock-out tournament.
"You can see until now that all I-League clubs are really motivated," voiced Pune City head coach Ranko Popovic before the tie. "We respect them (Lajong). How they finished in the I-League is not important because that is over. You have seen that extra power and motivation especially when it's a match between I-League and ISL clubs.
"I hope we are smart enough and intelligent because we played a lot of matches against I-League clubs in the pre-season and we know how good they are. If we want to go into the next round, we have to be in the top level, especially to keep our motivation," he added.
"We have to try to be original to be close to what made us strong this season as a team. In any case, it will not be easy. I'm 100 percent sure that it will be an exciting game."
"With the past matches, it's a matter of confidence for them (Lajong) that all the I-League teams are doing well (in the Super Cup)," Pune City's Adil Khan echoed.
Khan continued: "In the league, we have an opportunity to come back after every game. Here, we have to be mentally strong and finish it as soon as possible. We want to finish before 90 minutes. If we allow them to go on for 120 minutes, they will come at us because they are very young and they keep running."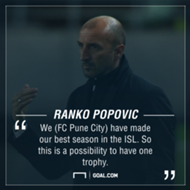 Meanwhile, Popovic also spoke of the significance of the tournament in terms of the opportunity for his club to garner their piece of silverware.
"It's a completely different competition but the same same objective for us. We have made our best season in the ISL. So this is a possibility to have one trophy," he said.
On the other hand, Shillong Lajong tactician Alison Kharsyntiew viewed the competition in the interest of the youngsters at his club.
"This is a great opportunity for us to play against an ISL team. Most of our squad consists of young players who can gain a lot of experience and exposure from this Super Cup.
"My team are ready to play 120 minutes or even win in the penalties, but we want to win in the 90 minutes. It's going to be very difficult against Pune City but we won't give up. We will go all out," he asserted.