Sunshine Stars
Sunshine Stars' Udi pleased with victory over Akwa United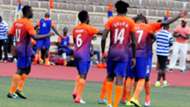 Sunshine Stars coach Duke Udi has expressed satisfaction with his side's 1-0 win over Akwa United in the first leg of their Federation Cup semi-final tie.
Otegbeye Ajibola's solitary strike was all the Owena Whales required to secure an advantage over the Promises Keepers at the Dipo Dina Stadium.
"Of course, we got a victory which was our intentions and that's good for us to take the advantage to Uyo," Udi told media.
"As everyone knows we don't play with the mentality of being at home or away. Our team is stronger when we go away from home. We have done fantastically well in our away games.
"We won three of our away games. Everyone will see a good and competitive game in Uyo if we get a good officiating there like we had here. If they beat me here, I don't care so far the officiating is fair for both teams.
*That's why it is going to be a balanced game in Uyo because we've seen them and known them too. We respect them but we are not scared of them. That's why I hope we get a good officiating in the second leg and we are going to give them a good fight.
He further attributed his side's impressive form since he took charge of the team to the players' reorientation and discipline.
"All we have achieved is to God and to none. I have to thank my players for changing their orientation because they believe in me and told them about my philosophy against the home must win syndrome because if you can win at home, why can't you win away.
"And I said if we cannot, then we are relegated already and inculcated discipline into them. Secondly, I told them if they are not disciplined, they cannot go far in football making myself an example," he concluded.