Ronald Koeman
Stubborn Koeman must suck it up to save Everton's season and his Barca dream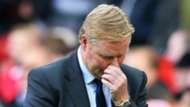 It is no secret that Ronald Koeman wants to manage Barcelona. He has the DNA the Catalan giants so covet, and despite struggling at Valencia, his record as a manager since has ensured he remains in the conversation whenever there is a vacancy in the Camp Nou dugout.
In almost every non-press conference interview the former Netherlands star partakes in, the conversation soon switches to when and if he will ever one day take over the club he represented with such distinction as a player. Along with managing his country, it remains the one dream he is yet to accomplish.
"Everyone knows that I am from Barca, they know my love for a club where I grew up as a player and as a person," he told Sport back in May. "In my life as a professional coach I have two dreams to fulfil. One, coach the selection of my country, Holland. My other wish, my other dream, is to one day coach Barca. That's the truth."
Taking over at Everton was meant to be the next stepping stone towards completing his vision. Having impressed at Southampton, the added investment brought in by Farhad Moshiri at Goodison Park was what tempted Koeman to swap the south coast for Merseyside.
Everton represented a side that had underachieved in their final season under Roberto Martinez but were a team that had both the players and the backing from upstairs to challenge for a place in the Champions League. The perfect project at which Koeman could prove himself further to the powers that be at Barca.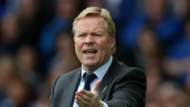 And yet, having secured an admirable seventh-placed finish in his first season at Goodison Park and with £140 million of new players brought in over the summer, there is a feeling that anything but a victory over Burnley on Sunday could see Koeman relieved of his duties. Most supporters would not be too upset.
The problems on the pitch at Everton this season are well-documented. Their failure to sign a replacement for Romelu Lukaku has placed pressure on a series of players who are not natural goalscorers to fill the void, while a severe lack of pace within the side has meant their attempted passing style has become slow and ponderous. Factor in injuries to key players such as Seamus Coleman, the freezing out of Ross Barkley, the seven occasions on which Koeman has been forced to make a substation at half-time already this season and there is certainly room for improvement.
But Koeman's reaction to all this has been astounding to say the least. There is an air of entitlement beginning to surround the 54-year-old that has left many of the Goodison Park faithful uncomfortable while his unwillingness to try something different – perhaps in the hope that if he tries to create a team in the mould of Barcelona the Liga leaders might take notice – is painful to watch at times.
Admittedly, Koeman stressed over the closing weeks of the transfer window that he wanted to bring in a striker and a left-footed centre back before the end of August and got neither. Frustration is to be expected, but the way he has dealt with it has struck many as a man who feels let down and isn't about to let the club forget about it, rather than one trying to get the best out of what he has at his disposal.
While his reaction to Jose Mourinho's claims that the Toffees should be fighting for a place in the top four given their summer expenditure made most of the headlines in the aftermath of their recent 4-0 defeat to Manchester United, it was perhaps his next answer that was more striking.
Asked by a local journalist what would be a realistic expectation for Everton this season, Koeman paused and looked away. After three seconds he eventually answered: "The same as last season."
While he may not have got all the players he wanted, for Koeman to suggest that having spent £140m on new talent – albeit some of that was raised by the sale of Lukaku – he cannot close the 15-point gap to the top four or even the eight-point gap to the top six is remarkable. One can only imagine what the reaction would be at Camp Nou to such negativity.
And while there is sympathy regarding the club's failures in the transfer market, Koeman must shoulder plenty of the blame.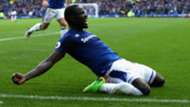 His reluctance to give Oumar Niasse an opportunity to prove himself given his success at Hull City last season and Koeman's lack of attacking options has beggared belief, even with the hindsight of his two goals to beat Bournemouth. Koeman's failure to name him in his side's Europa League squad could yet cost them a place in Europe post-Christmas, and again smacks of a stubbornness of a man who made his decision on player some time ago and was not ready to be proven wrong.
Tom Davies, meanwhile, burst onto the scene in the second half of last season, with his performance and goal against Pep Guardiola's Manchester City one of the best by an English teenager in Premier League history. This campaign was all set up for him to play a leading role. He was even given the summer off from international football to prepare himself for the new campaign.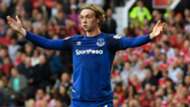 Despite some encouraging performances, though, Koeman still seems reluctant to fully trust Davies, with the 19-year-old yet to see out 90 minutes in either the Premier League or the Europa League group stages this season. Factor in the extended waits England's U20 World Cup winning stars Jonjoe Kenny and Ademola Lookman have had to gain first-team opportunities in positions where Everton have struggled most, and the claims from Southampton that Koeman relied too much on big-money signings rather than looking to club's talented academy are beginning to bear fruit.
Back in July, Everton were 'winning the transfer window' and assembling a squad many believed could make a real fist of challenging the Premier League's top six, with Barcelona surely beckoning for their manager. Koeman may blame the board or his players for why that is not coming to pass, but it is up to him now to prove why he deserves a chance at Camp Nou. Otherwise, it will remain just a dream.