Barcelona
'Stones is good enough to play for Barcelona' - Owen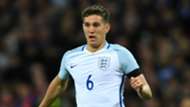 Former England striker Michael Owen believes Everton defender John Stones is the only player within Roy Hodgson's Euro 2016 squad that could realistically play for Barcelona.
Stones is one of three specialist centre-backs named by Hodgson for the tournament in France despite an inconsistent campaign for the Toffees as they finished 11th in the Premier League.
But Owen feels the 22-year-old's mistakes have been blown out of all proportion and has backed him to start for the Three Lions this summer.
And the ex-Liverpool forward even went as far as to say he is the only player in the national side who could walk into the Camp Nou and be deserving of a place in Luis Enrique's starting XI.
"I'm a massive John Stones fan. He's on a different level to virtually anyone else," he told BBC Sport. "I'd play [Chris] Smallng and Stones.
"People go so overboard on mistakes, and they associate Stones with mistakes. If I ask anyone if they could name three mistakes Stones has made this season, they couldn't. I could name five or six that [Gary] Cahill and Smalling have made. Smalling's given away a penalty, got sent-off and scored an own goal just in the last couple of weeks of the season, yet no one mentions mistakes with anyone else.
"This country seems to be infatuated with picking up on one thing. Someone says one thing and everyone jumps on it.
"This kid could play for Barcelona. He's the only player in the England squad who would walk into Barcelona's team at the moment. He's absolutely brilliant."