India
Stephen Constantine: Udanta Singh, Nishu Kumar playing in AFC Cup good for Indian Football
11:51 PM GMT+8
29/07/2018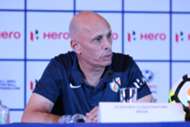 India's preparation for the 2018 SAFF Championship got underway with a national camp in New Delhi from Saturday onwards.

Head coach Stephen Constantine initially called up 34 players but Udanta Singh and Nishu Kumar, both of whom ply their trade at Bengaluru FC were not released by the club owing to AFC Cup commitments. The Briton however. managed to see the brighter side of things.

He said, " Firstly I would like to thank all the Indian Super League (ISL) and I-League clubs for releasing their players for the camp. Only two boys from Bengaluru FC (Nishu Kumar and Udanta Singh) were not released. The way I see it, Bengaluru are representing India in the AFC Cup. I think it's important that our clubs participate in the AFC Cup and these kinds of tournaments.

"We are preparing now for the SAFF Championship now. It is also sort of a preparation for the Asian Cup as well. So to let those two players play in the AFC Cup is good for Indian football. They are representing India there and I am a hundred per cent behind them. If any other clubs will be there in such competition I will obviously support them too."

The 55-year-old reiterated his disbelief over the Indian Olympic Association (IOA)'s decision to debar the entry of the national football team in the upcoming Asian Games in Indonesia. "I cannot tell how disappointed I am with the decision to not take part in the Asian Games. Asian Games happen every four years so every team there are different teams", he stated.

"We are not the team which played four or eight years ago. I think it did us harm because I felt we had a good chance of making it out of the groups and the players would also get to play more big games. It was a very poor decision," Constantine said.

The probables list for the SAFF Championship involves all Under-23 players bar forward Sumeet Passi. The former Rwanda national coach believes this to kick-start preparations for the 2019 Asian Cup as he discussed the roadmap for the senior side going into the UAE in January next year.

"We are playing against China in October as confirmed by the AIFF (All India Football Federation). We have Oman confirmed on December 27th. We will also play a match in November. I am not naming them as it is not confirmed and there will be another game in December before the first game in the Asian Cup," he revealed.

The national camp also includes four players from the Indian Arrows side that represented the nation in the FIFA U17 World Cup last year namely, Prabhsukhan Singh Gill, Suresh Singh Wangjam, Rahim Ali and Rahul Kannoly Praveen.

Constantine was asked to comment on the situation surrounding goalkeeper Dheeraj Singh Moirangthem, who was India U17's first choice 'keeper in the tournament. A trial earlier this year at Scotland-based Motherwell FC, has rendered the Manipur-born lacking match practice until he was snapped up by ISL outfit Kerala Blasters, coached by former England custodian David James.

To this, he said, " This has nothing to do with me and who is looking after the boy. There was a lot of hype around the U-17 team. They did not win any games at U-17 World Cup. I am not quite sure what the hype was about. India did okay but I never understood why we were making a big deal out of that performance.

"They didn't qualify for the World Cup, they hosted it. Too much was made out of it. They played a World Cup as the host nation. They lost all three games. Then they played in the I-League and came last."

However, Constantine went on damage-control mode on social media after he felt his comments were misconstrued and were made controversial.
 
. I would like to clarify some comments I made in a press conference today and put the record straight. With regard to the U17s we all have a responsibility to help the young players progress and develop after what they have experienced from the World Cup and the I-League.

— StephenConstantine (@StephenConstan) July 29, 2018
The SAFF Championship will be held in Bangladesh between 4-15 September. Defending champions India have been clubbed in Group B alongside Sri Lanka and the Maldives in the seven-team tournament.