Super Cup
StarTimes broadcasts Bundesliga curtain raiser ahead of 2017/18 season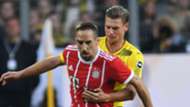 Defending Bundesliga champions Bayern Munich won the 2017 Supercup after twice coming from behind against 2016/17 DFB Cup winners Borussia Dortmund before settling the match 5-4 on penalties.
The most successful sides in DFL Supercup history went head-to-head on StarTimes World Football Channel being a curtain raiser ahead of the 2017/18 Bundesliga season.
Borussia Dortmund had not lost to Bundesliga opposition at the Signal Iduna Park in 28 months and with the new head coach Peter Bosz, they were expected to present a formidable challenge.
Speaking during the screening of the new German Bundesliga season curtain raiser on Saturday, StarTimes Vice President Mark Lisboa noted that the company has set the ball rolling for its Kenyan subscribers to enjoy major European soccer leagues at the comfort of their homes.
"The Bundesliga Super Cup is just the start of our rich football offering to our Kenyan subscribers as we look forward to the Live broadcasts of the 2017/18 Bundesliga, Serie A and French Ligue 1 soccer leagues at the comfort of our subscribers homes," noted Lisboa.
Bayern's win against Schalke in the inaugural edition gave them the edge historically, though events on the Signal Iduna Park pitch was swayed more significantly by the pair's summer preparations.
The Signal Iduna Park showpiece also offered the chance for the Bundesliga's two best goal scorers - Pierre-Emerick Aubameyang and Robert Lewandowski – to resume their own personal rivalry.
Dortmund striker Aubameyang finished top of the pile last season, dethroning Bayern's Lewandowski by scoring a whopping 31 goals in 32 league matches.
The Supercup presented an outstanding show of what is to come in the 2017/18 Bundesliga season in less than two weeks as the Bundesliga season begins with Bayern Munich hosting Bayer Leverkusen on Friday, August 18.