CAF U20 Women's Championship
South Africa will fight until last minute against Nigeria, says Maude Khumalo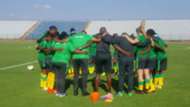 South Africa U20 women coach Maude Khumalo says her side will fight till the last minute to secure their maiden Fifa U20 Women's World Cup qualification against Nigeria.
The southern African are aiming for their first ever appearance at the World Cup at the U20 level but must subdue their eternal rivals Falconets at the Samuel Ogbemudia Stadium on Saturday.
Two weeks ago, Basetsana were humbled in the final round, first leg encounter in Polokwane no thanks to Rasheedat Ajibade and Anam Imo efforts at the Peter Mokaba Stadium.
And Khumalo assures her side will play their hearts out and is confident they can repeat their recent comeback triumph over Burundi when they face the west African giants.
"The mood within in camp is high and the girls are very optimistic and ready for the game. This is their last 90 minutes and they are ready to fight and give their energy, everything for the entire period of the match," she told Safa website.
"We anticipated when travelling this side that we will have so much logistics (problem) playing away from home. So we are well prepared from home and made use of the time we had at home.
"Despite they are the situation we can't control, we just need to stay positive and focus on what we are here for.  When you keep on winning and not losing – you won't be able to assess yourself well. But now we lose, we've been able to see what to work on. The girls are hungry and willing to play.
"Even this game, they know how important it is because it is our last game. It is like the last kick of a dying horse and I'm positive about it. I know the result we will have at the end of the day will be our best against Nigeria.
"In the first leg against Nigeria, I realized that we were defensive strong but concentration wise was low. There are some loopholes that I have seen and I have shown the girls, which we have rectified and they also understand that we need to stick to our game plan and implement it no matter what, which is very important.
"For me, the approach is going to be different to the first leg. We are two goals down and there is nothing to defend. We have nothing to lose and we will fight until the last minute. We need to put more efforts in our attack.
"I assume that they are going to be defending. When they attempt, we also know we need to defend. We must attack them using intelligence in the game and not kick the ball around. We have our tactics and I've told the girls to play to their strength."