Manchester United
Smalling honoured to join legends in Man Utd 300 club
12:16 AM GMT+8
27/10/2018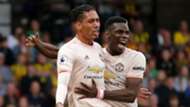 Chris Smalling is looking forward to joining "some big names" on the list of players to have made 300 appearances for Manchester United.
The 28-year-old signed for the Red Devils in January 2010 and linked up with Sir Alex Ferguson's squad that summer as he completed a meteoric rise from non-league football.
He had taken in just 19 senior outings for Fulham before being handed the opportunity to join star-studded ranks at Old Trafford.
Two Premier League titles, and one League Cup, FA Cup and Europa League success later, Smalling is now set to hit a notable landmark if he takes to the field for United against Everton on Sunday.
A man who also boasts 31 England caps to his name told United Review on becoming the 59th player to join the Red Devils' 300 club: "It's hard to sit back and just go through your whole career, because everything's always moving so fast. But the odd milestone is always a nice moment, and when you look at the previous players to have hit those kind of milestones, it's nice to be in that company.
"There are some big names [to have played 300 games]. Just to be able to be at a club like Manchester United for so long... when I first joined, you never know how it's going to turn out.
"It makes me very proud that a club like Manchester United have wanted me to be here as long as I have been."
Smalling is a London native but admits that, like many of those before him, he now has Manchester very much at heart.
He added: "The sheer size of the club... it's a club that's always used to winning trophies and being successful, and is probably the most talked about club in the world. To be able to play your part is an amazing feeling.
"You see ex-players like Rio [Ferdinand] talking in Twitter videos, and often he's coming to our games if he's doing his punditry, and you can tell that this club is definitely still his club.
"That's how I think I'm always going to feel, because this club has been such a big part of my career, and I hope it is for as long as it's possible."
Smalling should still have many years ahead of him in which to make more happy memories, but concedes that getting his hands on the English top-flight crown remains the highlight of his United career to date.
Asked to pick a favourite moment, he said: "Maybe my first title [2010-11 season].
"Joining a club of such big stature and trying to make my mark was very daunting, but it was something I enjoyed. I played a lot more games (33) in that first season than I could even have thought of.
"To be able to play my part in my first trophy - I can remember lifting it in the middle of the pitch and I had all my family there. That just really got me hungry for more."