Kaizer Chiefs
Siphelele Ntshangase: I want to be mentioned among the Kaizer Chiefs legends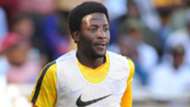 Kaizer Chiefs midfielder Siphelele Ntshangase said he's always known that he had something special that everyone needed to see even when he was rejected by some PSL teams. 
Prior to turning semi-professional, the 24-year-old tried his luck at Golden Arrows, Thanda Royal Zulu and Mamelodi Sundowns, but they all turned him down.
In 2013, Black Leopards gave Ntshangase the opportunity to showcase his talent. He patiently waited for his chance to play in the elite league until Baroka FC signed him in August 2017. 
Amakhosi came knocking again for his signature at the start of 2018, and Baroka accepted their offer, allowing Ntshangase to join his childhood team on a two-and-a-half-year deal. 
Ntshangase said all the challenges that he came across as he was working his up kept him going. 
"I have always known that I have something special that people needed to see. That's what kept me going in a tough journey that saw me go through many obstacles to get here," Ntshangase told IOL.
"You can't buy talent. It's either you have it or you don't. I was born with this," he said. 
Some football fans believe that the South Africa international is arrogant in the way he speaks, but Ntshangase says he's just confident. 
"Some people might think that I am arrogant in the way I speak, but that's not true. It's confidence in myself and my talent that makes me talk like this," added Ntshangase. 
Ntshangase will be expected to emulate the likes of Doctor Khumalo and Thabo Mooki among others, who shone as Amakhosi's playmakers during their playing days.
But while the diminutive player is aware of just how high expectations are, he intends to do things his own way, and ensure that he leaves an ever-lasting legacy at Naturena, although he admitted that the success of the team will always come first. 
"Humility is important in everything that you do. I respect them as legends of the club, but what I want to achieve in my time at Chiefs is to make sure everyone remembers my surname," continued Ntshangase. 
"I am not saying it's all about me. Obviously the team comes first, but when I have retired, I want to ensure I leave a legacy that will see my name also mentioned among the club's legends for what I did and not what I could do," said Ntshangase.