United States v Panama
Shaky defense a cause for concern after U.S. draw with Panama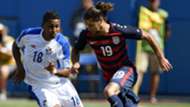 The U.S. national team's attack was supposed to be the big question mark heading into the CONCACAF Gold Cup. After all, the U.S. roster had defenders with World Cup experience, while the attack was dotted with players who had limited international experience. If anything, the defense was supposed to be the security blanket for Bruce Arena, the unit that would lock things down while the attack developed some chemistry.
What we saw on Saturday was an attack that had some of the issues we expected, but also a group that created a decent number of chances. As for that defense that was supposed to be the team's strength? It looked shaky far too often, forcing Brad Guzan into several big saves and giving Panama's attack life far more often than Arena or U.S. fans would have hoped.
Player Ratings: Dwyer, Guzan shine
Between Guzan's five saves and Panama's wasteful finishing, the U.S. was spared an embarrassing Gold Cup-opening loss, but Arena couldn't have been happy with the overall showing of a defense featuring three World Cup veterans.
In fairness, the tandem of Omar Gonzalez and Matt Besler did settle down to thwart some dangerous moments in the final 15-20 minutes, but throughout the match they each had moments you wouldn't have expected for a pairing that has played plenty of big matches together. Gonzalez was the more solid of the two, and you have to think he was still shaking off some of the rust from coming off his summer break, whereas Besler is in midseason form and endured some shaky stretches before stepping up with some key defensive stops later in the match.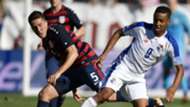 The fullbacks were the real issue though, with Jorge Villafana and Graham Zusi struggling with their defensive responsibilities, particularly as the game went on. Zusi had some good defensive plays early on, but as the game moved into the latter stages he struggled to cope with Panama's Miguel Camargo, who consistently found room to threaten down the Sporting Kansas City star's side.
Arena isn't likely to lose much sleep over Zusi's overall performance. He knows the former midfielder's adjustment to the right back spot is a work in progress. Of greater concern had to be Villafana's less-than-spectacular showing. Of the four defenders on the U.S. back line only Villafana would be considered a first-choice starter on a full-strength U.S. side, but any other left backs in the player pool watching on Saturday had to come away feeling like the position is very much still up in the air.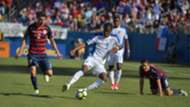 It wasn't all on the back four. The defensive midfield tandem of Dax McCarty and Kellyn Acosta struggled to get a hold of the game, and looked nothing like the impressive duo we saw against Ghana. Credit to Panama for doing well to bypass them on the counter, springing attackers on the flanks and forcing the U.S. back four to put out fires far more often than most would have expected them to. That said, the U.S. defense didn't play with anywhere near the poise you would have expected when Panama began pouring on the pressure in the middle of the match.
The good news for the U.S. is that Panama was always going to be the toughest challenger in the group stage. Martinique and Nicaragua won't be nearly as dangerous. That said, the Americans are in the Gold Cup to win it, and the defense we saw on Saturday didn't look like a group that would hold up well against fellow Gold Cup favorites Mexico and Costa Rica.
Arena has options to work with, particularly in central defense. He was probably always going to rotate in some fresh defenders for the second group match—against Martinique on Wednesday. Players like Matt Hedges and Matt Miazga don't have near the experience of Gonzalez and Besler, but after Saturday they both might feel even more confident about being able to play their way into a bigger role come the knockout rounds.
As for the fullback options in the group, you have to wonder what Eric Lichaj has to do to get a start. It's easy to forget that Lichaj played extensively in the 2011 Gold Cup before Jurgen Klinsmann either lost his number or decided to add him to the list of English League championship players he would ignore (ala Danny Williams). Much like Gonzalez, Lichaj is coming in off his summer break, but given how consistently good he has been for Nottingham Forest in recent years, and given his ability to play either fullback position, you have to think his chance is coming.
One thing Arena isn't known for is overreacting, and it's unlikely he's going to bury any of his four defenders because of any struggles on Saturday. If anything, he might be tempted to keep that back four together for the next match against Martinique, hoping they find a rhythm and regain some confidence before he gives the likes of Hedges, Miazga and Lichaj a look against Nicaragua in the group finale.
The fact is the U.S. defense we saw on Saturday is basically it for the U.S. There are no big guns waiting in the wings on the preliminary roster that Arena could call in as replacements for the knockout rounds. No Geoff Cameron or John Brooks or DeAndre Yedlin who can step in and start when the likes of Costa Rica and Mexico come calling later in the tournament. Sure, Arena could call up a Greg Garza, or even see what Jonathan Spector or Steve Birnbaum can bring to the table, but there is nobody Arena can call in that's a can't-miss defensive option.
The back four of Villafana-Besler-Gonzalez-Zusi is more than likely the quartet Arena hoped to be able to ride to the Gold Cup final, and he is sure to give them every opportunity to show they can get the job done. That said, if they don't improve on Saturday's lackluster showing, or if players like Hedges, Miazga or Lichaj don't step in and prove to be better options, the U.S. won't make it to the final.