Fulham
Sessegnon: It's 'crazy' to be on PFA Young Player list alongside Kane, Rashford & Sterling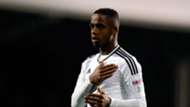 Fulham star Ryan Sessegnon was named the Championship Player of the Year at the EFL Awards on Sunday, and is the first player from outside the top flight to be nominated for the PFA Young Player of the Year prize.
The 17-year-old is nominated for the gong alongside established Premier League stars Harry Kane, Marcus Rashford, Leroy Sane, Raheem Sterling and Ederson.
The teenager admits it is a bit surreal to have been included on a shortlist with household names from Tottenham, Manchester United and Manchester City.
"It is crazy to be on a shortlist with those type of players, but I'm just happy to be in and around those types of players. I just need to keep improving," Sessegnon said at the EFL Awards.
Sessegnon is quick to give credit to his team-mates and manager for his meteoric rise in 2017-18.
"It's a great personal achievement of mine but it's all credit to the team for the way they have played this season," the teenager said.
"I think it is just having good people around you, never getting too carried away and always having your feet on the ground. I always want to improve and I am never satisfied with my performance.
"There's always something that I [can] do better when I play and I never think I have had a great game. I just want to improve.
"I think day by day, training session by training session and match by match I am improving and that's all because of [Fulham manager] Slavisa [Jokanovic] really so credit to him and to the club."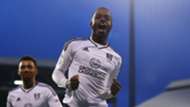 Fulham are unbeaten in the Championship in 2018, racking up a stunning 14 wins and only four draws in that period. However, their recent derby match against Brentford saw the away side equalise in the last minute, putting Cardiff City back above them in the battle for the last automatic promotion spot.
Sessegnon, who has 14 goals this season, is dreaming of promotion to the Premier League with the club he came through at as a boy.
"Coming through the youth ranks and playing for the first team has been a great honour for me," Sessegnon said.
"Stepping out on Craven Cottage as a local boy is extra special for the fans and young players at Fulham, I like to show that there is a pathway at Fulham to get into the first team.
"It would mean everything [to be promoted with Fulham] - it is the team that has made me a professional, and it's the team that has given me a chance.
"I think the other day was a big blow for us but we need to be ready to again and hopefully we can get into the top two."
There have been rumours that Sessegnon could make Gareth Southgate's England squad as a surprise selection for the 2018 World Cup in Russia. Sessegnon says that he will not be affected by talk of a first call-up and that his only concern at the moment is Fulham.

"It is just about focusing on Fulham," Sessegnon said. "Nothing too much with England. We have one job and that's to try and get promoted."