World Cup
Senegal going for three points against Colombia in World Cup group decider
10:34 PM GMT+8
27/06/2018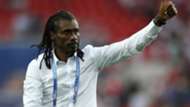 Despite requiring just a point to secure a round of 16 place at the World Cup, Senegal coach Aliou Cisse says his side are going all out for a win when they face Colombia in their last group game on Thursday. 
Currently tied on points with first-placed Japan, the West Africans must avoid defeat in the Group H fixture set for Samara's Cosmos Arena to confirm their place in the next round. 
But coming up against a resurgent Colombian side, who must claim three points at all cost to make the next stage, there have been talks that the Teranga Lions could adopt a conservative approach to play it safe.
"[It's] more than possible [to win the game] because we have four points, Colombia have to defeat us [and] we are perfectly capable of defeating Colombia," Senegal coach Aliou Cisse said at the pre-match presser on Wednesday. 
"Our state of mind hasn't changed. We play one match at a time. 
"Our only option is to get into the round of 16 and this means we have to defeat Colombia.
"Concentration is important for us, details will make the difference. We need to be cautious and alert on set-pieces and in our technical skills. 
"We played them in 2014 so we know their weaknesses and strong points and we are number one in our group by now and we have to be defeated and it's not easy to beat Senegal."
While Senegal seem to have dipped after settling for a 2-2 draw with Japan following an opening day win (2-1) over Poland, Colombia are conversely said to be on the rise after the 3-0 defeat of Poland, having lost 2-1 to Japan in their opener. 
"The Colombian team I've seen against Poland and Japan were very physically fit on one-on-ones; they're highly committed and I'd say the same with Senegal," Cisse added.
"[They have] very good midfielders and they do great things with [Juan] Quintero in particular.
"We have very good players who can resist any impact who may win one-on-ones and I think it will be played in the midfield but we know Colombia has good wingers too. 
"We have similar styles and this is why I think there'll be a lot to see on the pitch tomorrow."
Senegal are hoping to make the quarter-finals for the second time.