Faizzudin
Selangor first eleven spot on Faizuddin's mind in 2018
11:58 AM GMT+8
28/01/2018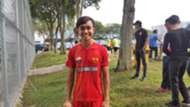 ---
BY        ZULHILMI ZAINAL       Follow on Twitter
---
Selangor's friendly match against Korea Republic third tier side Daejeon Korail FC on Saturday morning ended in a 3-1 win to the Red Giants, with their stars struggling to turn in an eye-catching performance on the slippery National Sports Council pitch.
However, one youngster used the match to showcase his potential. With the match tied at 1-1 and around 10 minutes left on the clock, 21-year old midfielder Faizuddin Abidin sent in a freekick from the right that centre back Willian Pacheco in the penalty box headed across the Daejeon goalmouth, to be stabbed in by fellow youngster Tamil Maran Manimaran for the lead.
Five minutes later, receiving a freekick on the opposite side near the penalty area, Faizzudin curled in a deceptive freekick that went in off the far post, and Selangor would finish the match with a 3-1 win.
Although Selangor have not had a good pre-season by any measurement, perhaps 2018 will be the season that the former President's Cup winner will finally shine.
When met by Goal after the match, Faizuddin said he has only one target this season; to break into the team's first eleven.
"My target is to break into the first eleven and help the team win one cup," said the player who made one league appearance last season.
With head coach Maniam Pachaiappan promoting even more young players into the senior side this year, Faizuddin , who has a three-year contract with Selangor, thinks that 2018 will be a good year for them to show what they are capable of.
"Maniam is always willing to give the boys a chance in the first eleven, so we have to repay his trust, improve and work hard.
"On top of this, the more senior players are also eager to help us adapt, guide us and provide moral support. Of course they also bully us a bit, but that's normal and they're just larking around!" said the youngster with a laugh.