Australia
Saudi Arabia 'very confident' ahead of Socceroos clash, says Arthur Papas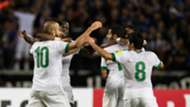 Having spent the past three months in the Middle Eastern kingdom, Arthur Papas has claimed Saudi Arabia is very confident ahead of their World Cup qualifier against Australia in Adelaide.
Having earned plenty of plaudits in back-to-back FFA Cup campaigns with NPL Victoria clubs Oakleigh Cannons and Green Gully, Papas joined Saudi Pro League outfit Al Ettifaq as an assistant coach in February.
Now back with Green Gully upon the completion of the 2016-17 season, the 37-year-old told www.socceroos.com.au that Saudi Arabia's top flight is the best competition he's ever worked in, and believes the Green Falcons will focus on counterattacking the Socceroos on June 8.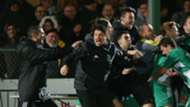 Arthur Papas, Green Gully
When Papas joined Al Ettifaq, the team hadn't won since late November and were staring down the barrel of relegation, but with Dutch coach Eelco Schattorie at the helm, the Australian helped guide Al Ettifaq to safety. 
It was the second time Papas has worked outside Australia having previously coached in India in four different positions from 2012 to 2015.
Arthur, tell us more about joining this struggling club in Saudi Arabia...
Our predicament was not the easiest situation to inherit as the team hadn't won a league match since November 24, and in a situation like this there are numerous factors surrounding the dynamics of the team, which clearly are not functioning at an optimum level.
Socceroos 'great preparation' for Brazil
So to improve the results, whilst finding a playing style that was suited the characteristics of the playing group, was a fine balancing act but one we managed to navigate successfully.
Can you elaborate on the style of football in Saudi Arabia's Pro League?
The standard was without doubt the highest I've worked at.
The Saudi Arabian Pro League is ranked in the top four in Asia and has numerous teams that consistently fight for the AFC Champions League title every year.
In terms of the style of football, Saudi Pro League is a very technical league where the space within the game is quite restricted, as most teams prefer to defend in the middle to defensive third.
COMMENT: Socceroos unconvincing to begin 2017
Therefore, this reduces the speed of the games and allows for a very patient style of football where mistakes within ball possession are pounced upon and very quickly turned into goals.
Both Saudis and the majority of the foreigners possess a high technical level and can operate very effectively in these restricted spaces, and the top teams especially have match-winning players in key positions, which many times prove to the difference.
What's the mood like in Saudi Arabia ahead of this immensely important clash with Australia?
The feeling over in Saudi Arabia is very confident, they feel they have a very strong generation of players coming through and combined with an experienced coach they are aware of the Socceroos qualities, but also know their destiny is in their own hands and are leaving no stone unturned in their preparation for this match.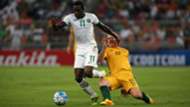 Abdulamlek Al Khaibri and Aaron Mooy, Saudi Arabia versus Australia
At Al Ettifaq we had a couple players who have been in the NT squads throughout the qualifiers and now that the league is finished they will be heading into camp immediately in Frankfurt, Germany for two weeks and from there head over to Australia for another two weeks to acclimatise.
Green Gully's heroics could spark second division - Papas
That is a huge obstacle for them considering when I left last week the weather was hitting 45 degrees and going to get hotter.
No expense will be spared to ensure they have the best possible preparation for this crucial qualifier.
Can you delve a little deeper into what we'll expect tactically from the Green Falcons?
I expect them to stick with the 1-4-2-3-1 that [coach] Bert Van Marwijk has employed for the majority of the qualifiers. 
Defending two banks of four will often be seen and I would also expect them to set their defensive block somewhere between the defensive and middle third which would give them the ability to also provide a counterattacking threat.
Players like Mohammed Al Sahlawi and Yayha Al Shehri from Al Nassr are key attacking threats and like mentioned earlier have the individual quality to capitalise on errors in ball possession, especially in the central areas of the pitch.
Troisi happy with Socceroos return
Whilst in defence Osama Hawsawi from Al Hilal is an integral part of their organisation and one of their biggest threats on attacking set-pieces.
In Saudi Arabian football the first and last five minutes of every half seems to be a weakness where a lot of goals are scored and games are often decided in these times, as well from set-pieces.
Your thoughts on Saudi players overall?
Saudi players comprise of a very interesting make up, technically they are very strong and this really was the biggest difference as the majority have a very creative side to their playing characteristics and can manage the ball within minimal space and with high efficiency.
Tempo is maybe the one area that can be improved as they prefer a slower tempo style of play and no doubt a lot of that is due to the harsh climate they are exposed to but this does have a bearing on the speed of play. 
How will Australia versus Saudi Arabia pan out?
It's certainly a difficult match that comes with a lot of pressure to again produce the style of football Ange has instilled in the team against a high quality Saudi team that know a positive result in Australia will nearly guarantee them a spot at the World Cup.
I was privileged to work in the Saudi Pro League and with their players and therefore understand deeply the affiliation they have for their country and what it means to them all as football really is the only sport that matters there.