Chelsea
Sarri insists Morata's Chelsea career isn't over as he explains Man City snub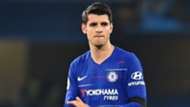 Chelsea manager Maurizio Sarri says that Alvaro Morata understands why he was left out of the squad entirely for Saturday's 2-0 win over Manchester City, and that the Blues striker does have a future at the club. 
Eden Hazard started up front as Sarri looked to use his pace on the counter-attack, leaving out both Morata and Olivier Giroud from the starting line-up for the first time since joining the club.
Morata's last two starts were defeats away at Tottenham and Wolves, where he failed to last more than 65 minutes in either match.
Sarri however has reassured the striker, who cost £58 million plus add-ons in the summer of 2017, that he has not made any decisions on his future at the club.
"I think it is normal, it was a choice for this kind of match," Sarri told reporters at Stamford Bridge.
"I don't know if in Brighton we will play in the same way or not, maybe not. I don't know. I think Alvaro is able to understand that it is only a tactical decision, it is not the final choice.
"We thought yesterday that for the first time in the season that there was a possibility to have more spaces - so we wanted to try with Eden - because for the first time there was a possibility to play on the counter-attack.
"Willian, Hazard and Pedro are really very suitable for this kind of play, so it is a normal choice. I think that it is really a very good option and maybe we will try it again in the future. Especially for certain matches."
Morata was left out of a Chelsea squad for the first time this season against City and he is still yet to win the hearts and minds of all around the club since his big-money move.
Meanwhile, Chelsea's display came as surprise to many after a blip in recent weeks led to only one win in four matches with Sarri repeatedly complaining about the mentality and lack of determination in the group. 
He gave further insight into why Chelsea's players can't consistently produce displays with the same levels of motivation that they showed against Man City.
"They are able to defend, of course, but they are not able to have the same level of application and the determination in every match," he added.
"We need to improve in this and to be able to play with the same level of application as today in every match. Also in the matches with less motivations.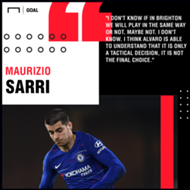 "I can understand that it is easier to have strong, big or great motivation against Man City. But then I know very well against Brighton, there will be three points on the pitch. We need the same level of motivation and application. That's where we need to improve I think. It is not very easy.
"They have won in the past so it is not easy now to fight for positions. I think that to be a professional is not automatic to have great motivation. Otherwise, it is too easy. I think it is the same for you [as a journalist] every morning it is not the same for you."
As well as being pivotal to the clean sheet against a free-scoring Man City, David Luiz played a role in both goals against Guardiola's previously unbeaten side. His accurate long ball set Willian on the counter-attack, who got the ball to Hazard to provide an assist to N'Golo Kante to open the scoring. Hazard then took a second-half corner and Luiz scored a brilliant header past Ederson late in the match. 
Sarri thinks that criticism of Luiz was harsh after the Spurs game and thinks that it was easier for the Brazil international against Man City because his team-mates protected him more.
"To play in the defensive line in some matches is easier," Sarri said.
"Like in this match, because the defensive movements of the team were working very well. So it was a little bit easier. Then there are matches like Tottenham where I think it is impossible to play in the defensive line, because the defensive movements of the team were a disaster.
"It was very easy to play a bad match. Today it was easier but, of course, he played a very good match and so did (Antonio) Rudiger I think. It was easier for the centre backs but he played very well."
Luiz himself was quick to praise Chelsea's 'humility' after their triumph over Manchester City.