Santosh Trophy
Santosh Trophy 2018 roundup: Karnataka humiliate Goa 4-1, Mizoram rout clueless Odisha 5-0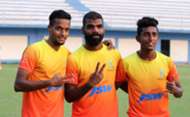 The fourth day of Santosh trophy 2018 witnessed a goal fest as a total of 10 goals were scored in two matches. At Howrah Stadium, Karnataka came back from behind to humiliate traditional powerhouse Goa 4-1 and at the Rabindra Sarobar stadium, Mizoram outclassed Odisha 5-0.
The Group B encounter between Mizoram and Odisha saw complete domination by the North-Eastern state. Lalromawia, who scored two goals against Goa in their first match to inspire his side to a 3-1 win, once again netted a brace today. The other three goals were scored by Lalbiakhlua, Malsawmdawngliana and F. Lalrinpuia.
Odisha had just two proper chances to score in the entire 90 minutes. The first goalscoring opportunity fell to Odisha skipper Arjun Nayak as he headed a floating corner towards the goal but it struck the crossbar.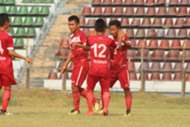 After missing a series of opportunities in the first 30 minutes of the game, Mizoram finally broke the deadlock when Lalbiakhlua headed the ball into the back of the net from Lalrinpuia's cross.
The lead increased in the 41st minute thanks to a strike from Romawia. A beautiful through ball down the middle from Lalnun Tluanga was slotted home by the midfielder.
Mizoram were in an attacking mode from the very beginning of the match as they shaped up in a 4-3-3 formation. They became more aggressive as the second half resumed. Lalromawia scored his fourth goal of the tournament and his team's third in the 59th minute from Lalbiakhlua's cross.
At one point it seemed that Odisha were awaiting further humiliation but Mizoram missed too many chances in the attacking third. The final nail in the coffin was hit by Lalrinpuia to seal a dominating win for his side.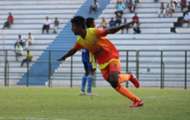 In the other match held in Howrah, Goa once again gave up on a one-goal lead to suffer a shock defeat at the hands of minnows Karnataka. Kapil Hoble broke the deadlock in favour of Goa in the 26th minute taking advantage of a defensive error inside the Karnataka box. But Gunashekhar Vignesh restored parity for the Southern state in the 54th minute from Sukesh Leon's pass.
S Rajesh handed Karnataka the lead in the 61st minute from Leon Augustine's pass. Mathew Goncalves and Leon Augustine increased their side's lead further in 69th and 89th minute of the match to seal a memorable win for Karnataka in Santosh trophy.
With this defeat, the road to semi-final becomes complicated for the four-time Santosh Trophy champions Goa.