Mohamed Salah
'Salah on Messi & Ronaldo's level' - 'very humble' Liverpool star earns Hadji approval
10:29 PM GMT+8
13/06/2018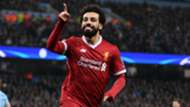 Mohamed Salah is in the same bracket as Cristiano Ronaldo and Lionel Messi, according his fellow African Footballer of the Year winner Mustapha Hadji.
The Egyptian has enjoyed a stellar season with Liverpool, scooping up a multitude of individual honours, but it was not a smooth passage to star status for Salah.
After impressing in the Champions League with Basel, Salah earned himself a move to Chelsea in the winter transfer window of 2014, but he struggled for regular starting opportunities at Stamford Bridge before getting back on track in Serie A with, first, Fiorentina and then Roma.
Salah's exploits with Roma secured a transfer to Liverpool last summer and he scored 44 from his 52 appearances in all competitions, winning the Premier League Golden Boot and the division's Player of the Year awards along the way.
He also helped lead Liverpool to the Champions League final against Real Madrid, but he was forced off injured after just half an hour and he is now a doubt for Egypt's World Cup opener. against Uruguay on Friday.
Morocco's assistant coach Hadji, who was named African Footballer of the Year in 1998, is full of praise for Salah and believes he is one of the best players in the world today.
"Mohamed Salah has reached a level that puts him alongside the greatest players," Hadji told Goal. "I think he proved it again against Roma [in the Champions League semi-final]. Today, he is one of the best players in the world. He is in that category alongside Neymar, Ronaldo and Messi. He has his place there.
"When we see everything that he has done this season, and I also believe that he's a very humble guy, I wish him the best because it is not always easy to start where he started. He did a tremendous job.
"Beyond the footballer, I feel when I look at him he has exceptional humility and it goes above and beyond anything. I am really a big fan. He's a guy who surprises me every day. I wish him to be one of the top three players in the world and I really believe he can make it."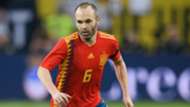 Hadji is helping Morocco to prepare for the World Cup in Russia, where his side will face Iran, Portugal and Spain in Group B.
Former Deportivo La Coruna and Espanyol midfielder Hadji is looking forward to facing Andres Iniesta and feels it is an 'injustice' that the Barcelona legend has never won the Ballon d'Or.
He added: "I never understood why he did not win the Ballon d'Or. It is an injustice in the light of his career, the player he has been, and he still is. He's not just a player, he's an engine. He is an exceptional player. He really makes the team play around him.
"I was lucky to play against him when I was in Spain. I saw his qualities. I never understood why he was not rewarded because he is a football monster. He's an icon, someone who represents Barcelona. I take my hat off to him because he was a true example for world football."