Mohamed Salah
Salah fee regrets for Roma as Liverpool star's value soars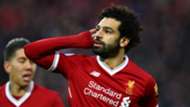 Roma were able to push Liverpool in a deal for Mohamed Salah to around €50 million, but Monchi concedes that price "could've been better".
Once it became clear that the sought-after forward would be heading for the exits in the summer of 2017, a suitable fee had to be settled upon.
Big-money transfers at Paris Saint-Germain involving Neymar and Kylian Mbappe helped to inflate the market and force Liverpool to dig a little deeper, but they have still found value in Salah.
The Egypt international has been a revelation at Anfield, netting 30 times in his debut campaign to see his value soar and leave those back in the Italian capital cursing their luck at having to sell.
Roma's director of football Monchi told Sky Sport Italia on the Salah agreement: "At the end of the day, we could reach €50m with bonuses, but at that moment we had to sell and that was an important option.
"The Neymar and Kylian Mbappe transfers changed the market, but at that moment it was necessary that we sell.
"I still think the price could've been better for Salah, but it did give us the possibility of making other moves.
"When I arrived, the Liverpool offer for Salah was €32m plus €3m in bonuses. In today's football, players go wherever they want to.
"The figures are important, because at the end of the day we are a business, but the fans cannot be bought. In my years at Sevilla, people counted the trophies and those are so far missing at Roma.
"I understand the fans perfectly well, I know they don't want to talk about numbers, they just want to win, but that is my job. We have to build a club that doesn't just win, but does so consistently over time. Fans don't want promises, they want results.
"I accept all of that, but ask them for a little faith. It takes time. We've got to stay quiet and work harder to find the right path towards what the fans want."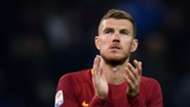 While Roma reluctantly parted with Salah last summer, they were able to fend off interest from the Premier League in another star turn during the winter window of 2018.
Chelsea landed Brazilian defender Emerson Palmieri, but failed to bring former Manchester City striker Edin Dzeko back to England.
Monchi said on that saga and the contingency plans Roma were able to shelve: "We had started talking with Chelsea about Emerson and then they asked us about Edin.
"We told them to make an offer and we would consider it. Chelsea never offered what we were asking for, though, and Dzeko didn't reach an agreement with them either.
"We were not 100 percent convinced about selling Dzeko, but if he had gone, we would have brought in a replacement. [Olivier] Giroud was a serious option, as was [Michy] Batshuayi."