Liverpool
Salah can see 'young, hungry' Liverpool past 'monster club' Real Madrid - Owen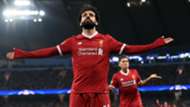 Michael Owen famously missed out on the chance to play for Liverpool in a Champions League final.
While Steven Gerrard, Jamie Carragher and Co were dancing around the Ataturk Stadium in Istanbul, their friend and former team-mate was at home, reflecting on what might have been. The year of 2005 was a golden one for the Reds, but not for one of their best-ever goalscorers. "You should be here," came the text that night. But he wasn't.
Owen had walked away from Anfield in search of glory with Real Madrid during the summer of 2004. His timing could hardly have been worse. Rafa Benitez's first season on Merseyside was testing, but destined for glory and Liverpool were to lift their fifth European Cup in the most remarkable of circumstances. They were to make themselves legends. The memories will last a lifetime.
On Saturday, Owen's former clubs will collide in Kiev. He will be there this time, albeit as a BT Sport pundit rather than a player. He was 33 when he retired; it's fair to say his career went only one way after leaving Liverpool.
"I thought I could do what Ian Rush did," he tells Goal in an exclusive pre-match interview. "I thought I could go over to Spain, see what was what, and then after a year I could come back to Liverpool and carry on doing what I had been doing.
"Unfortunately, it didn't work out like that. I wish it had, of course, but you don't always get what you want."
Owen played almost 300 times for Liverpool, far more than he did any other club. He played seven full seasons at Anfield, and was their leading goalscorer in all seven. He does, however, share an uneasy relationship with the club's supporters. He was booed the first time he returned, with Newcastle United, and did little to help matters by joining Manchester United some years later. To many, he remains a pantomime villain. "Where were you in Istanbul?" is a familiar jibe.
His affection for the Reds, though, remains. They will always be 'his' club, he says. He does, however, speak fondly of Real, with whom he spent only one season.
"It's a monster of a club," he says. "Everything about that club screams history and tradition – the stadium, the players, the kit, the supporters. It's one of the game's true iconic clubs, known the world over.
"I know people talk about me leaving Liverpool and what happened after that, but I just had to go over there and experience it at Real Madrid. If I hadn't, I'd have regretted it for the rest of my life.
"The way I see it, there are only a handful of clubs in world football that you can put on a pedestal, that you can feel the aura of as soon as you walk in. Real Madrid are one, Liverpool are another. Those shirts carry weight, you can feel the history. It's there, every single day, every single game. I felt it at both. I'm so proud to have played for both."
That was then, though. This is now. Now, Liverpool are the underdogs and Real the favourites. Zinedine Zidane's side are going for a third Champions League win in a row, Jurgen Klopp is looking to end his losing run in finals. It's Cristiano Ronaldo vs Mohamed Salah, the battle of the goal machines. Mouth-watering.
"I cannot wait, trust me!" Owen says. "It's probably not the ideal thing for a pundit to say, but for me it's a spin of a coin as to who wins.
"The way I see it, it's such a contrast of styles that I think one has to prevail over the other. I can't imagine a tight, cagey game where the teams cancel each other out. I think one will blow the other away, and I think we'll see pretty early who that will be.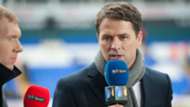 "Who do I think it'll be? I don't know! I think Liverpool have a really good chance though. They're a different type of team to Real. They're younger, maybe more naïve, maybe more hungry.
"Real are the masters of performing on the big stage – you only need to look at the amount of medals their players have won. Never mind Ronaldo, what about Ramos? Or Modric? Marcelo? Benzema? Kroos? These are all serial winners who know exactly what it takes to get the job done, and it's a big task facing Liverpool.
"But I believe Liverpool have shown they are as good as any team around in a one-off game against one of the big boys. Look at the way they went at Manchester City, they don't fear anybody and they have the game to take it to anyone. That, for me, makes it a fascinating clash."
Like everyone else, Owen has been left to marvel at the feats of Salah, in particular. Owen's reputation was that of a prolific, natural goalscorer, yet his best ever scoring season brought 'only' 28. Salah has 44 already this term. A hat-trick in Kiev would equal Ian Rush's club record.
"I wouldn't say I'm surprised that he's been such a good signing," Owen says. "We knew he had quality and talent. What's surprised me is the consistency, that he's managed to sustain his form over the whole season.
"You remember after about 20 games and his goal ratio was decent, and you almost expect a dry spell or a dip, because he's a player coming into a new league. But he's just gone on and on and on, if anything he's got better as the season's gone on. That's been so impressive.
"I think he had a point to prove after what happened at Chelsea. But you know when you look at his numbers at Roma, they were pretty impressive. He's just kicked on another level since coming to Liverpool.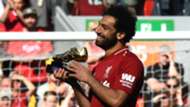 "We knew he had pace and that he could run in behind, but what has impressed me is the way he can use his body to protect the ball. He bounces defenders off him and that's enabled him to get into more and more scoring positions. He's not a typical winger, he's got an all-round game to him."
The question now, it seems, is can he sustain the form? Owen knows what it's like to take a league by storm with Liverpool. Is he backing Salah to maintain his excellence?
"Why not?" he says. "He just has to keep doing what he has been. I shared the Golden Boot in my first season in the Premier League as an 18-year-old, and people wondered whether I'd have to adapt because defenders get wary. But I won the Golden Boot the next season as a 19-year-old. When you have that form and that confidence, you just ride the wave.
"Look, this is the age of information. Every team, every player has all the data on Salah, they have all the stats and the clips and they have all come up with their own plans to stop him. They've doubled up on him, they've dropped off him, they've got tight, they've man marked him and tried to show him onto his right foot. And what's happened? He's scored 44 goals!
"He's here to stay, I'm convinced of that. He'll be at Liverpool next season and scoring goals. He might not get to 40-plus next season, but he won't be far off. He's that good a player."
And if he produces one more match-winning performance in Kiev, he'll be a Liverpool legend. Owen will be the first to congratulate him.
Watch Real Madrid v Liverpool in the UEFA Champions League Final on BT Sport 2 and BT Sport 4K UHD from 6pm on Saturday 26th May. BT Sport is where the best go head-to-head, for more info visit  www.BT.com/sport