World Cup
Russia Diary: Moscow paints a glossy picture as World Cup gets off to a roaring start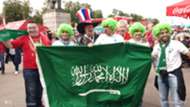 This article is in collaboration with Vivo who are the official sponsor of the 2018 World Cup, the 2021 Confederations Cup and also the 2022 World Cup. All the photos and videos in this article were clicked through the limited edition World Vivo V9 phones.
Russia, the hosts of the 2018 World Cup, got off to a rip-roaring start as they pummelled a sorry Saudi Arabia 5-0 to pick full points in the World Cup's opening fixture.
The Reds, winless in their last seven games which included a 3-3 daw with Spain, were a treat to watch on the grandest stage of all in the sporting world. The 5-0 win over the Greens was the highest margin of victory recorded by a nation in an opening fixture of the World Cup after Italy hammered the United States 7-1 in the inaugural tie of the 1934 World Cup.
The tough supporters in Russian domestic football and also the history of feuds with fans from other countries in recent years were a concern for the organisers.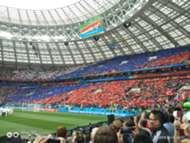 But the opening tie went off smoothly, aided by the fact that there were little to no security constraints faced by the organising committee. It is important to note that the World Cup in Russia is under the scanner due to security issues, especially due to clashes between fan groups. 
Strict supervision through a joint campaign between police and military soldiers plus a number of volunteers who were ready to help ensured trouble-makers were forced to think twice. 
The result was that fans who came from many countries could gather and mingle without any conflict even before the stadium opened. The streets were decked like a fashion show.
Russian and Saudi supporters too celebrated together and seemed to be jolly in each others' company. There was no concern even when both groups of supporters came in waves.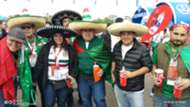 "We hope fans, athletes and pundits enjoy their stay in Russia which is an open country, friendly, and meet new friends - people who share the same value," expressed a beaming Russian President Vladimir Putin. at the opening ceremony.
As the sentence from the President depicted the first day of the World Cup, Russia successfully presented a five-star display, on and off the field.