Transfers
'Ronaldo would have bankrupted us' - Napoli admit passing on star before Juventus move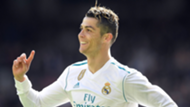 Napoli president Aurelio De Laurentiis has admitted the Serie A side were offered Cristiano Ronaldo before he joined Juventus, but decided against signing him because it would bankrupt the club.
The 33-year-old joined Juve on a four-year contract that will see him pocket €30 million (£26.5m/$35m) per season after they agreed to pay Real Madrid €100m (£88m/$117m) plus €12m (£10.5/$14m) more in additional charges.
The signing of the five-time Ballon d'Or winner has been hailed as a big boost for Italian football by Napoli's new coach Carlo Ancelotti, who won the Champions League with Ronaldo at Madrid.
And De Laurentiis has admitted that he had the chance to reunite Ancelotti and his former star, but felt it would have been financially disastrous for the club.
"Ronaldo had also been offered to Napoli," he confirmed to La Gazzetta dello Sport.
"I called his agent, Jorge Mendes. We also formulated our offer and we would have paid Ronaldo with a percentage on the subsequent profits guaranteed by his arrival.
"The €350 million that Juventus will invest is beyond our reach, we would have risked pushing the club towards bankruptcy."
Ronaldo spent nine seasons at the Bernabeu, where he scored 311 goals in 292 league appearances for Los Blancos.
During his time with Madrid, he picked up a couple of Primera Division titles and two Copas del Rey, yet it was in the Champions League that the team enjoyed their greatest success, winning the European crown four times, including a run that was extended to three successive years as they beat Liverpool 3-1 in the final this term.
It was after that match that Ronaldo first hinted that he could leave the club, with speculation escalating until he finally departed last week.
He has been handed the No.7 jersey by Juve, with Juan Cuadrado happy to gift the shirt to the Portugal star, whose World Cup involvement ended early as his side were defeated 2-1 by Uruguay at the last-16 stage.
It is unclear when Ronaldo will begin training with the Turin giants, but he could be ready in time to make his debut against Real Madrid in an International Champions Cup match on August 4.