WTF
Ronaldo MOCKED for Madrid derby celebration... by his own son!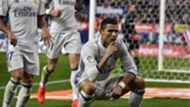 ---
EXTRA TIME
---
Cristiano Ronaldo has no doubt become accustomed to abuse from rival supporters, but he probably wasn't expecting his own son to get involved!
Will Coutinho be Iniesta's successor?
The Portuguese was the star of the show on Saturday night as he scored a hat-trick to help Real Madrid beat Atletico 3-0 in the huge derby clash at Vicente Calderon.
Ronaldo's sitting down celebration has sent social media into overdrive, with many poking fun at the 31-year-old in the form of various memes and photoshop mock-ups.
And the Madrid forward's six-year-old son, along with a group of his friends, also took the chance to rub it in as they posed for a photo on Instagram.
A photo posted by Cristiano Ronaldo (@cristiano) on Nov 20, 2016 at 8:06am PST
Ronaldo clearly saw the funny side of the image, though, as he added the caption: "The boys make fun of me", along with the stick out tongue emoji.
The former Manchester United star is back in action with Madrid on Tuesday night as he travels to Portugal for what will undoubtedly be an emotional return to Sporting Lisbon.