Real Madrid v Atlético Madrid
Cristiano Ronaldo hailed as 'an absolute machine' by Ferdinand following hat-trick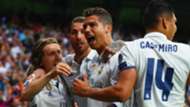 Cristiano Ronaldo has been branded 'an absolute machine' by Rio Ferdinand following his latest hat-trick heroics for Real Madrid.
The Portuguese superstar was at his talismanic best for the Blancos as they secured a commanding 3-0 lead over cross-city rivals Atletico Madrid in the first leg of their Champions League semi-final tie.
Ronaldo's seventh treble in Europe's premier club competition carried them to victory, with the current holder of the Ballon d'Or breaking the 50-goal mark in the knockout stages.
Ronaldo matches Messi's CL record
Ferdinand worked alongside the 32-year-old during his time at Manchester United and believes that he continues to raise the bar when it comes to mind-boggling consistency.
He told BT Sport: "An absolute machine. A devastating finisher.
"What it's down to is not just talent, he aligns that with sheer dedication and hard work and that's how you get your rewards."
Ferdinand claimed prior to the Atletico contest that Ronaldo will only be fully appreciated once he hangs up his boots.
He has faced criticism at times again this season but has silenced those doubters with his remarkable efforts on the field and dedication to continuous improvement off it.
"When he retires we'll really understand what this guy has done for football," said former England international Ferdinand.
"He's got that experience now. He knows what he needs to do in the big games and have that cutting edge and make the difference. He does it with his eyes closed.
"You can see this guy is relentless. I spoke to him in midweek, 'what is it that actually makes you who you are?'
"'Hard work and determination' is all he said. And it's true, it's the basics that got him where he is and then it's the talent that separates him."
As the records continue to tumble around Ronaldo, he is now just one goal short of reaching another notable landmark, with a 400th effort for Madrid set to be recorded in the not too distant future.