Real Madrid
Ronaldo departure was a shock but no player is bigger than Real Madrid - Marcelo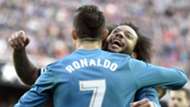 Marcelo has admitted that Cristiano Ronaldo's summer move away from Real Madrid came as "a surprise" to everyone, but he is eager to point out that "the club is bigger than any player".
The Portuguese had hinted on the back of capturing a fifth Champions League crown of his career, and his fourth with the Blancos, that a new challenge could be on the cards.
It did, however, come as a shock when he called time on a record-breaking stint at Santiago Bernabeu and made his way to Serie A champions Juventus.
Real have struggled in his absence, but Marcelo remains adamant that a club of such stature will recover from the departure of an iconic figure, as they have done on several occasions in the past.
The Brazil international told his official YouTube channel: "Ending our holidays and coming back to the routine of Real Madrid without Cristiano Ronaldo was a surprise for us, we thought he wouldn't go.
"Real Madrid is a huge club, Cristiano Ronaldo is huge too, but the club is bigger than any player.
"The history of Real Madrid is impressive and Cristiano Ronaldo added a piece more to the history of this club, but Real Madrid can't stop.
"The player changes club, stops playing, retires and Real Madrid will still be here."
The Blancos, who have slipped to seventh in the Liga standings on the back of a sorry slump, are currently preparing for a first Clasico clash with Barcelona since Ronaldo headed for the exits.
That contest at Camp Nou will also see Lionel Messi missing from the grandest of Spanish stages, as he nurses a broken arm, but Marcelo is aware that a tough test awaits Madrid.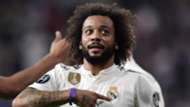 He said: "Playing at Camp Nou and representing the badge is very beautiful, the feeling is beautiful when all of the fans are against you, it motivates you," he told the La Liga website.
"It's a game where whoever makes fewer mistakes wins.
"We have to be focused, as we know Barcelona's quality and of the important players they have in attack.
"When I came to Real Madrid one of my aims was to play in a Clasico and win it, I've played many and it's always a joy to play against Barcelona.
"The world stops to watch this game, whether it's the start of the season or a final.
"Every player wants to be there playing and I've had the privilege to be able to play in a few."
Another disappointing result in Catalunya would pile pressure on Madrid and could spell the end for under-fire boss Julen Lopetegui, with a man only handed the managerial reins over the summer already believed to be on borrowed time.
"We will try to turn the situation on its head, as we aren't very bad but we want to improve," said Marcelo.
"Lopetegui is trying to do everything possible to take Real Madrid as high as possible, where we have to be."