eSports
Ronaldo and Neymar lead list of FIFA 18 Team of the Year nominees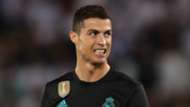 The nominees for the EA Sports FIFA 18 team of the year have been announced, and voters have been tasked with making a difficult choice.
Based on their real-life performances throughout 2017, a list of 55 nominees will be whittled down to a full XI based on votes from athletes, media and members of EA Sports FIFA community.
The video game company sent a ballot box to eligible voters, who will pick their team in a 4-3-3 formation and submit it by sharing a picture of the selection on social media with the hashtag #TOTYVote by Friday, with the winning team to be announced on Monday January 15.
The team is then expected to be released in FIFA Ultimate Team packs from Monday, with players released all week until the weekend when the full team will be available in packs.
With a big selection of stars available for each position, however, picking the best of the best is not so easy.
Here, Goal runs down the list of stars available for the team of 2017.
---
FIFA Team of the Year Goalkeeper nominees
---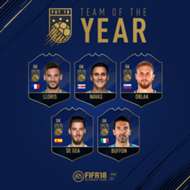 After helping Juventus to the Champions League final and yet another Serie A triumph, Gianluigi Buffon is of course one of the top nominees for this year's squad.
However, the iconic Italian shot stopper faces fierce competition from Manchester United No.1 David de Gea, who is being hailed as the best in the world for his displays this season.
Hugo Lloris is also unsurprisingly in the running after his pivotal role in Tottenham Hotspur's second-place finish in the Premier League last term, while Keylor Navas also has a great chance after winning the Champions Laegue with Real Madrid.
Having gone from strength to strength at Atletico Madrid over the last few years, Jan Oblak is also among the nominees this year,
---
FIFA Team of the Year Defender nominees
---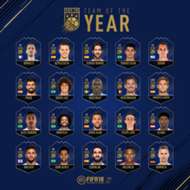 Voters also have a tough choice picking each of their defenders, with a wealth of quality players making the list this year.
The right-back position is difficult enough to narrow down, with the likes of Dani Alves, Dani Carvajal. Cesar Azpilicueta, Kyle Walker, Joshua Kimmich and Filipe Luis all up for the role, while left-back is not much easier as Marcelo, Marcos Alonso, Jordi Alba, David Alaba and Alex Sandro among the nominees.
As for the team's centre-back pairing, voters have a tough choice narrowing it down to two, as the choice includes stars such as Juve's reliable star Leonardo Bonucci, La Liga stars Sergio Ramos, Gerard Pique and Diego Godin and Tottenham hero Jan Vertonghen among others.
Full list of defenders: David Alaba, Jordi Alba, Marcos Alonso, Dani Alves, Cesar Azpilicueta, Leonardo Bonucci, Dani Carvajal, Diego Godin, Joshua Kimmich, Kalidou Koulibaly, Filipe Luis, David Luiz, Marcelo, Gerard Pique, Sergio Ramos, Alex Sandro, Thiago Silva, Antonio Valencia, Jan Vertonghen, Kyle Walker
---
FIFA Team of the Year Midfielder nominees
---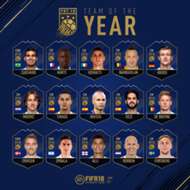 Voters are spoiled for choice when it comes to the midfield, with a huge range of options giving them the chance to construct a truly remarkable trio.
With stars such as Paulo Dybala, Arjen Robben, Kevin De Bruyne, Dele Alli and Emil Forsberg to choose from, there is the possibility to pick an all-out attacking force, or look for some balance in the centre with the likes of N'Golo Kante, Marco Verratti and Casemiro coming off the back of an excellent year.
Full list of midfielders: Thiago Alcantara, Dele Alli, Casemiro, Kevin De Bruyne, Paulo Dybala, Christian Eriksen, Emil Forsberg, Andres Iniesta, Isco, N'Golo Kante, Toni Kroos, Luka Modric, Radja Nainggolan, Arjen Robben, Marco Verratti
---
FIFA Team of the Year Forward nominees
---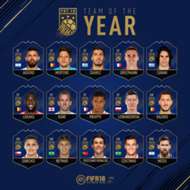 After winning a fifth Ballon d'Or in his career and winning FIFA's Best Player award once again, Cristiano Ronaldo will be the star of most people's dream XI for 2017.
However, most football fans would require some deep thought to narrow the list of possible forwards down to three, while many will find it tough to overlook Barcelona's main man Lionel Messi too.
Many fans will be excited by the prospect of Tottenham star Harry Kane lining up alongside Ronaldo at Real Madrid after another sensational year for club and country and would be a reasonable option, but so too might Premier League rivals Sergio Aguero, Eden Hazard and Romelu Lukaku.
Paris Saint-Germain's teenage sensation Kylian Mbappe is listed alongside both of his new team-mates in €222 million signing Neymar and last season's Ligue 1 top goalscorer Edinson Cavani, while Robert Lewandowski, Antoine Griezmann and Barca's new €160 million signing Philippe Coutinho.
Full list of forwards: Sergio Aguero, Edinson Cavani, Philippe Coutinho, Antoine Griezmann, Eden Hazard, Harry Kane, Robert Lewandowski, Romelu Lukaku, Kylian Mbappe, Dries Mertens, Lionel Messi, Neymar, Cristiano Ronaldo, Alexis Sanchez, Luis Suarez.