Lionel Messi
'Ronaldo a genius, but Messi still the best' - Barca star backed for another Ballon d'Or by Jordi Alba
Jordi Alba acknowledges that Real Madrid talisman Cristiano Ronaldo is "a genius", but considers Barcelona team-mate Lionel Messi to be "the best player in the world".
Two of the finest footballers on the planet have spent the best part of a decade competing with one another for the biggest prizes in the sport, both with their respective employers and on an individual level.
Ronaldo moved himself back to the summit in 2016 but, as records continue to tumble around the pair, Messi has enjoyed a standout opening to 2017.
Messi team optimistic over ban appeal
Alba believes that has positioned the mercurial Argentine at the front of the queue to recapture the Ballon d'Or crown, but appreciates that Ronaldo remains a phenomenal talent.
He said at an Adidas promotional event: "I don't know who decides the Ballon d'Or winner, or the best in the world,' Alba said on Thursday.
"Everybody has their own opinion. At one point, Xavi or [Andres] Iniesta should have won it.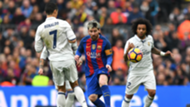 "You already know my opinion, because to me, Leo Messi is the best player in the world.
"Cristiano is a great player who scores many goals. He's a genius, if I said it any other way I'd be lying.
Ronaldo: I am from this planet!
"To watch on the pitch, I think people prefer Leo, it doesn't matter which team you support."
Messi has netted 49 times in all competitions for Barcelona this season, with that return taking him past the 500-goal mark for the club.
Ronaldo, meanwhile, took his tally for the campaign to 35 with a hat-trick in a Champions League semi-final clash with Atletico Madrid on Tuesday – with the Portuguese having already become the first man to pass 100 efforts in Europe's premier club competition.