Cristiano Ronaldo
Ronaldo (2015): The documentary film on one of the world's greatest ever players
11:19 PM GMT+8
25/01/2018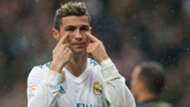 In 2015, a documentary was released telling the story of the life of Cristiano Ronaldo during his peak at Real Madrid.
It was released in December 2015, the year before he lifted the European Championship with Portugal, and during the season where he went on to win his third Champions League title.
At the time, Ronaldo had won three Ballon d'Or awards - going on to lift the trophy again in 2016 and 2017.
The film, simply titled 'Ronaldo' was the second documentary film about the attacker following on from 'Cristiano Ronaldo: The World at His Feet' which had been released on Vimeo a year earlier.
Goal looks at the documentary film about one of the world's greatest footballers.
---
Plot
---
The Ronaldo documentary film focuses on the entire life and career of the Madeira-born footballer from his childhood to his breakthrough at Sporting CP and then Manchester United before signing for Real Madrid. It details his life up until 2015 when it was made, and looks at the day-to-day existence of the superstar.
The film features clips and highlights from throughout his life interspersed with interviews by Ronaldo himself as well as friends and family. It also includes archive footage from his early playing days that had never been seen before its use in the documentary.
---
Ronaldo Cast Crew, Directors & Producers
---
As Ronaldo is a documentary film, it does not feature any actors aside from BAFTA nominee David Morrissey, who provides voiceover work and narrates some of the scenes.
Ronaldo and his family all star in the movie, including his mother Dolores Aveiro and son Cristiano Jr. Lionel Messi and Rio Ferdinand are also among the cast, while many other footballers feature in the archival footage of football games.
It is directed by Anthony Wonke, who had won a BAFTA in 2008 for his factual series The Tower: A Tale of Two Cities, which focused on the difficulties faced by people in an impoverished area of London when a property developer built luxury apartments in the region.
The official poster for the documentary advertises the film as being "from the makers of Senna and Amy", as it was executive produced by Asif Kaspadia who directed both films and won an Academy Award in 2016 for the latter.
---
Ronaldo Reviews
---
Overall, Ronaldo did not receive a positive reaction from critics. It currently holds a 17 per cent rating on Rotten Tomatoes, who collate reviews from various publications across the world in multiple languages.
| Publication | Rating | Review |
| --- | --- | --- |
| Independent | 4/5 | "This is probably the most insightful film about the life of a footballer off the pitch since Vikash Dhorasoo's Substitute." |
| Guardian | 2/5 | "This is for fans only." |
| Radio Times | 2/5 | "This is a vulgar vanity project that massively misses a unique opportunity." |
| Times | 1/5 | "A grossly uncritical slice of hagiography." |
| Espinof | N/A | "A complete waste of time unless you are a diehard fan of Cristiano Ronaldo." |
---
Related Movies
---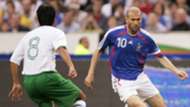 Fans of Ronaldo and Real Madrid would undoubtedly enjoy the documentary made about current Madrid boss Zinedine Zidane called Zidane: A 21st Century Portrait which focuses on the French midfielder throughout one full club game.
Ronaldo's great rival, Messi also had a documentary film made about him in 2014. Although the arguments about who is better, Ronaldo or Messi, continue with ferocity online, it is clear that the Argentine's movie is better than the Portugal attacker's, gaining mostly positive reviews from critics.
The Ronaldo documentary was executive produced by the director of Amy and Senna which are documentaries on the late Amy Winehouse and Ayrton Senna respectively and are both tremendous films and have won multiple awards.
| Related Movie | Year |
| --- | --- |
| Zidane: A 21st Century Portrait | 2006 |
| The Class of '92 | 2013 |
| One Night in Turin | 2010 |
| The Real Puskas | 2009 |
| Maradona | 2008 |
| Messi | 2014 |
| Becoming Zlatan | 2015 |
---
Ronaldo trailer
---
The trailer for the Ronaldo documentary was released in September 2015 to whet appetites for the film three months later.
---
Watch Ronaldo online
---
Ronaldo was available on Netflix for six months until November 2016, but was removed from the streaming site and is still not available to stream online in the UK. It is also not available on Hulu or other streaming services.
It can be rented from Amazon for $3.99 or purchased for $14.99.