Premier League
Romario, Ronaldinho, Ronaldo, Neymar - How Jesus' European arrival compares to the Brazilian greats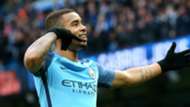 Gabriel Jesus has made quite an impact during his first couple of weeks arrived in England, with even the most optimistic of Manchester City fans surprised at how quickly the Brazil international has taken to life in England.
The 19-year-old has bagged three goals and two assists in just four appearances for the Premier League club, and has already relegated club legend Sergio Aguero to the bench.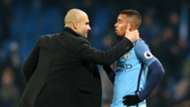 The former Palmeiras man has made a blistering start to his career in Europe, his early performances have trumped those made by a number of his illustrious compatriots, including a handful who went on to dominate world football, winning the World Cup and claiming the World Player of the Year award.
Ronaldinho swapped Gremio for Paris Saint-Germain in 2001 but failed to find the net in any of his first four games for the French club.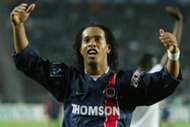 Gabriel Jesus' early statistics also outnumber those of Neymar, who found the net just once in his first four appearances for Barcelona.
One former World Player of the Year, however, can match the new Man City star. Rivaldo also scored three goals in his first four matches in Europe, after leaving Palmeiras for Spain's Deportivo La Coruna in 1996.
And Romario went one better. 'Shorty' scored four goals in his first four appearances for PSV following his 1988 switch to the Netherlands.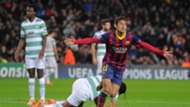 Then, of course, there is Ronaldo, perhaps the greatest of all. The phenomenon announced his arrival in Europe by hitting six in his first four matches.
It is probably safe to say, however, that none of the aforementioned World Cup-winning World Players of the Year arrived in a league as competitive as the modern Premier League.
Gabriel Jesus has enjoyed an incredible last 12 months, leading Palmeiras to the Brazilian league title, claimed an Olympic gold medal, and ending 2016 as the senior national team's joint-top scorer, despite only having made his debut in September.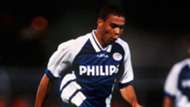 The initial period of transition could hardly have gone better for Brazilian football's latest teenage sensation. It is still very early, of course, and many back home are noting that the true test will arrive when things stop going so well for him.
The world is watching, strapping themselves in alongside some of the great Brazilian forwards of the past. And it's so far, so good, for Gabriel Jesus.