WC Qualification Africa
Rohr must correct Super Eagles' deficiencies vs. Algeria - John Obuh
12:12 AM GMT+8
11/11/2017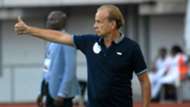 Former Nigeria U20 coach John Obuh urges Gernot Rohr to work on his side's weaknesses against Algeria on Friday evening.
With Nigeria already through to the World Cup, the Super Eagles face Rabah Madjer's men in a dead rubber encounter at Mohamed-Hamlaoui stadium.
And the Kwara United tactician feels the clash in Constantine will offer Rohr a chance to correct lapses observed in their 1-0 win over Zambia in Uyo.
"The success of our qualification will give opportunity to build confidence. The Super Eagles have been having their way and  are doing well not minding their shortcomings," Obuh told Goal.
"We have a lot to do ahead of the World Cup and qualifying games. We must look at the team's deficiency in our coming games and take note of areas we need to work hard.
"There is not best team at all. The more you progress, the more you need to look at your deficiency to see where to improve for the next games.
"If I'm going to talk as a coach from outside, I think we need to provide substitute in some certain areas. Against Zambia, we played without a left-back, though Ola Aina came in, but I don't think he is a natural left full back, which is not compulsory.
"But at time, we could use a very good player with a right-foot and a bit of left to play the left back. In the centre back, we have one more person as a reserve and another wing back too.
"So we don't run into trouble when we come under pressure playing against tougher nations like Algeria and Argentina. It is a preparation game for us and we must use it well," he concluded.