PSL
Robyn Johannes ready to take over as Cape Town City captain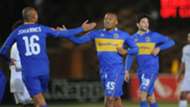 Cape Town City defender Robyn Johannes admits he will be happy to take over the captain's armband should Benni McCarthy decides to give him the responsibility of leading the team this season.
"As far as we are concerned, Lebo is still the skipper until his transfer is official. If it happens that I am named the captain after that, then I will be happy to do the job, but this is the type of team where we respect whatever the decision is," Johannes told The Cape Times.
As one of the senior players alongside goalkeeper Shuaib Walters, the issue of who takes over from Manyama will not divide the squad but offer support to whoever gets the armband.
"If it's someone else, we will all be 100 percent behind the man. We do everything as a group, and we support each other as a group," Johannes said.
The well-traveled player is happy with his pairing with Taariq Fielies in their MTN 8 semi-final first-leg a few weeks ago at home than his usual partner Tshepo Gumede.
"Both Taariq and Tshepo are fantastic players. I like playing with defenders who can tackle and pass as well both of them have a good pass and are aerially strong," Johannes said.
"I admire both and I learn whenever I play alongside them. I'm sure whoever plays of Taariq and Tshepo, the other will support, that's how this team operates. We are a team, not a bunch of individuals. Individual glory means nothing, everything is about the team, and the club as a whole," Johannes said.