World Cup
'Ridiculous decision!' - World Cup final referee Pitana slammed following controversial VAR call
12:20 AM GMT+8
16/07/2018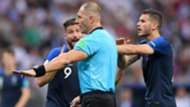 Referee Nestor Pitana has been slammed for his decision to award France a first-half penalty against Croatia in Sunday's World Cup final.
Mario Mandzukic became the first player to score an own goal in the tournament's final, heading an Antoine Griezmann free-kick past team-mate Danijel Subasic after 18 minutes.
Ivan Perisic levelled the game 10 minutes later but was called into question for handling inside his own box before half time.
Griezmann's corner was delivered toward Blaise Matuidi at the near post, with Perisic knocking the ball behind for what was perceived to be another corner kick.
The France team were adamant that the Croatia attacker had handled, however, protesting to the officials to review the play via VAR.
Pitana did eventually use the pitch-side screen to check the decision before awarding a France penalty.
He was widely criticised thereafter, with former players, pundits and fans claiming that he had indeed made a mistake.
It was all going too well! Ridiculous decision NO NO NO VAR #FRACRO #Worldcup2018Russia

— Alan Shearer (@alanshearer) July 15, 2018
Poor poor poor decision ref!

— Jermaine Jenas (@jjenas8) July 15, 2018
That's ridiculous....where is he supposed to put his hand???

— Chris Sutton (@chris_sutton73) July 15, 2018
It's the referee's mistake not VAR! VAR is just a replay of an incident!! #WorldCup #FRACRO

— Jamie Carragher (@Carra23) July 15, 2018
Roy keane spot on, that penalty decision shows the referee has very little understanding of how it is to play football, horrendous decision

— Andy Reid (@AndyReidXI) July 15, 2018
This is downside of var , ref perfect position , gut instinct which is 93% of time right said no pen , had you not had var play on and in my opinion correct , took him an age to change his mind looked at it about 5 times , so how is that clear and obvious

— Robbie Savage (@RobbieSavage8) July 15, 2018
Worst scenario for FIFA, #VAR decision (wrong one) wins the World Cup for France(in this case).
And please get rid of the word INTERPRETATION. #wrongorright

— Pierre van Hooijdonk (@pierrevh17) July 15, 2018
Shearer took his criticism further, telling BBC : "There's no way a ridiculous decision like that should affect the result in a World Cup final. It doesn't deserve that. To boil down to a decision like that.
"Croatia have been brilliant. They haven't given France any room whatsoever and they are losing this game from a free-kick that wasn't a free-kick and from a penalty that was no way a penalty.
"It would be a crying shame if this game is decided by that. He's taken so long, he's certain that is deliberate handball, there's no way that is deliberate handball. No way."