Cristiano Ronaldo
Revealed: How Marcelo Salas scuppered Juventus move for Ronaldo
11:56 PM GMT+8
31/10/2017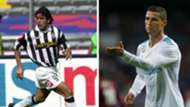 History for Cristiano Ronaldo and Juventus could have been very different were it not for Marcelo Salas, Alessandro Moggi has revealed.
The son of former Juve general director Luciano claims that the Serie A giants were close to sealing a deal for the Portuguese superstar during his time at Sporting.
After working hard to piece together a transfer package, the Turin side were left empty-handed when Chilean forward Salas refused to trade places.
With Juve out of the picture, Ronaldo eventually completed a move to Manchester United and has gone on to become a record-breaking goalscorer and four-time Ballon d'Or winner over the course of prolific spells at Old Trafford and Real Madrid.
Moggi, who was general manager of a football agency company at the time of the interest being shown in an 18-year-old Ronaldo, told Tuttosport: "Cristiano Ronaldo was offered to Parma and Lazio but they rejected a chance to sign him.
"Juventus wanted to sign him and I travelled to Lisbon with Jorge Mendes.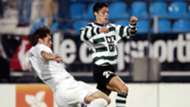 "The idea was to make a swap deal with Marcelo Salas as Juventus wanted to sell him. Trouble is, Portuguese football wasn't too interesting at the time and we didn't manage to persuade Salas to move to Portugal.
"Contracts and papers were ready, Ronaldo was happy because in that moment Juventus were one of the best teams in Europe.
"That day we could have changed the history of European football, maybe Ronaldo could have still been a Juventus player."
Missing out on one of the finest players of this or any other generation could be considered a major regret for Juve, but Moggi claims that he was even more disappointed to see another former World Player of the Year slip through the net.
He added on the Ronaldo saga: "This is not my biggest regret, however, as Ronaldinho came also close to joining Juve in the past."
The World Cup-winning Brazilian became the best player on the planet at Barcelona, before eventually turning out in Serie A for AC Milan between 2008 and 2011.
Juve have not fared too badly without Ronaldo and Ronaldinho but their trophy haul, particularly in Europe, could have been even greater had they not seen unfortunate obstacles block their path in the transfer market.