MLS
Real Salt Lake fires coach Jeff Cassar three games into 2017 season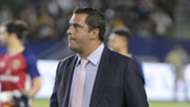 When it came to managers under pressure entering the 2017 MLS campaign, Real Salt Lake coach Jeff Cassar certainly found himself in the conversation. Now we know just how short that leash really was.
MLS Wrap: Timbers' attack dominant
RSL fired Cassar on Monday, just three matches into his fourth season as head coach — and four months after he signed a new contract with the club.
Salt Lake director of goalkeeping Daryl Shore will serve as interim coach during the club's search for a new manager.
"At the conclusion of last season, we felt that while we were disappointed in the end result, Jeff had done enough to earn another shot to lead the team in the 2017 campaign," general manager Craig Waibel said in a news release. "We have a high sense of urgency for progress this season, and have made many offseason changes towards that endeavor. So, while these decisions are always difficult, we, as an organization, felt that it was necessary to make the change in our head coaching position now.
"The process for hiring a new head coach to lead the club has already begun. We will work quickly and diligently to ensure that we find the right leader that shares our values, passion, commitment and vision."
Cassar, 43, went 38-37-30 in regular season matches after taking over for Jason Kreis following the 2013 season, which saw RSL fall in the MLS Cup final. Salt Lake advanced to the Western Conference semifinals in 2014, marking a seventh straight playoff appearance, but missed the postseason in 2015 and was eliminated in the knockout round last fall after a sixth-place finish.
RSL ended 2016 with a seven-match winless stretch, then opened 2017 with an 0-2-1 skid that included a 2-1 home loss to the LA Galaxy on Saturday.
Cassar had been with the club since 2007, when he joined as an assistant coach under Kreis.
"It was definitely a shock," Cassar told The Salt Lake Tribune. "But I'm a realist. At no point, even when I got the contract extension, am I sitting there, resting on my laurels and saying everything's great."
Cassar added: "This is a results business. … I don't think the way we ended the year last year really boded well for starting the year like that, which is kind of a double whammy."
Salt Lake is one of six clubs playing through the international window this weekend, traveling to face the New York Red Bulls on Saturday.