African All Stars
Rasheedat Ajibade tops Nigeria U20 Women squad for Tanzania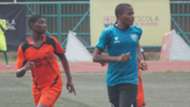 Newly appointed Nigeria U20 Women's coach Chris Danjuma has invited 30 players for next month's Fifa U20 Women's World Cup qualifying encounter against Tanzania.
Topping the list is FC Robo captain Rasheedat Ajibade who made the cut alongside Joy Bokiri, Cynthia Aku, Blessing Ezekiel and Christy Uchebe.
The Falconets entertain the Tanzanians on September 16 with the first round second leg fixture holding on September 30 in Dar es Salaam.
The invited players must report at the Serob Legacy Hotel, Wuye, Abuja on Wednesday, 23rd August 2017 with their training kits, original birth certificates and international passports.
FULL SQUAD
Monle Omini (Abia Angels); Tola Adeniyi (Sunshine Queens); Chioma Okoye (Sa'adatu Amazons); Chiamaka Nnadozie (Rivers Angels); Nelly Ekeh (Pelican Stars); Blessing Ezekiel (Rivers Angels); Margaret Etim (Delta Queens); Oluwakemi Famuditi (Confluence Queens); Gloria Ogbonna (Ibom Angels); Joy Duru (Nasarawa Amazons); Feyintola Mabokanje (FC Robo Queens); Florence Alexander (Sunshine Queens); Juliet Iorliam (Nasarawa Amazons); Kikelomo Odueke (Edo Queens); Joy Bokiri (Bayelsa Queens); Bola Oladiti (Confluence Queens); Josephine Queens (Nasarawa Amazons); Lilian Tule (Bayelsa Queens); Christy Uchebe (Nasarawa Amazons); Blessing Onoriose (Bayelsa Queens); Adebisi Saheed (Delta Queens); Helen Ugar (Pelican Stars); Uche Udefo (Edo Queens); Rasheedat Ajibade (FC Robo Queens); Charity Reuben (Ibom Angels); Chinyere Igbomalu (Nasarawa Queens); Doosima Tarnum (Adamawa Queens); Cynthia Aku (Rivers Angels); Mariam Abdulrasheed (Confluence Queens); Anam Imo (Nasarawa Amazons)