AFF Championship
Rajevac will have Thailand hunting for precious away goal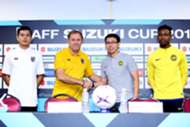 In the four Group B matches that Thailand has played, only one of those matches was away from their sacred home of Rajamangala Stadium. With Timor Leste without a home stadium of their own for the tournament, Thailand hosted that particular game in the group stage.
The one time that The War Elephants travelled, it was to Philippines and that ended in a 1-1 draw at Panaad Stadium where Milovan Rajevac's side were lucky to came away with a point. The travel cobwebs may not have been fully cleared for the Thais in this competition and their next one will be in front of a capacity 87,000 Bukit Jalil National Stadium.
But Rajevac is not taking that into consideration as he's looking to ensure that his team perform at the highest level despite Thailand still waiting to taste victory over Malaysia at Bukit Jalil.
"We are trying to play the same way at home and away, so I don't think it'll be any distraction. That Philippines games was a specific one on travel and everything. I'm sure my team is able to delivering quality performance and ability to play for the result in away matches."
"It's important to focus and play our game. History is meant to be broken and that's what we'll try tomorrow. Tomorrow is only the first half and the second is in Bangkok. It's important to score the goal and important not to have a negative result. These things are important when you play home and away.
"We all watched the match (Malaysia v Myanmar). Support from the audience was the 12th player of the team and Malaysia deliver good performance against Myanmar and deservedly qualified to this stage," said Rajevac in Friday's pre-match press conference.
Having already scored 15 goals in the competition which averaged out to more than three goals per game, Thailand's attack are in good form and have what it takes to deliver fatal blows to the Malaysian defence.
Rajevac will undoubtedly be looking for Sanrawat Dechmitr to be the creative hub and Adisak Kraisorn to be the finisher. Under Rajevac, Thailand have approached the game in a more direct manner and it will not be a surprise to see Malaysia being allowed to hog the ball possession come Saturday.
Follow Goal Malaysia on Instagram