United States
Pulisic is set for USMNT return, and it shouldn't be a brief one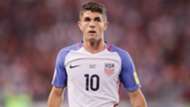 CHESTER, PA. — It has been six months since we last saw Christian Pulisic in a U.S. national team uniform. Not long enough to make anyone forget the images of Pulisic shedding tears in Trinidad after the United States saw its World Cup dreams die, but definitely long enough to leave U.S. fans hungry to see the teenager back in the stars and stripes again.
The U.S. announced on Tuesday that Pulisic will make his return for the May 28 friendly against Bolivia, a match being played on Memorial Day not too far from Pulisic's hometown of Hershey, Pa.
It didn't come as much of a surprise, especially given what a tough sell a friendly against Bolivia on Memorial Day would be without him, but what was a bit more surprising was caretaker USMNT coach Dave Sarachan intimating that it wasn't a guarantee Pulisic would stay with the U.S. for its June friendlies against France and Ireland.
"There's going to be a handful of guys that just went through a long year in Europe that will be finishing up close to when we'll be bringing guys in," Sarachan told reporters at a roundtable on Wednesday.
"I'm trying to balance out the roster where players don't have to finish their season, come to the States, train all week and then fly back to Europe. So there'll be some of those guys that I think we'll leave in Europe and not bring over. And then when we leave here on the 29th they'll join us and be a part of the games in Europe."
Sarachan is clearly treading cautiously, taking nothing for granted regarding his most important player, but there's really no good excuse for Pulisic to not play a part in every one of the U.S. team's upcoming friendlies if he is healthy.
Pulisic's Bundesliga season ends on May 12, but Borussia Dortmund has scheduled a friendly against Los Angeles FC for May 22 that will prolong his campaign, and complicate Pulisic's participation in the U.S. team's upcoming friendlies.
"We're going to have that conversation," Sarachan said of which games Pulisic will take part in. "He falls into the category of a long grind year and then Dortmund throws this postseason game on the group to come here. The challenge will then be after he's here, how we manage him to go back. That's still working through that."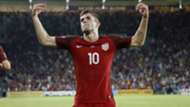 Pulisic has skipped the team's three friendlies since the World Cup qualifying disaster, a break that has allowed him to focus on Borussia Dortmund, while also coping with the disappointment of missing out on the World Cup.
"He's been through a lot over the year personally," Sarachan said of Pulisic. "I know there's a lot of demands on a guy like him and he's being pulled in different directions.
"There's still some speculation, this didn't come from him directly, that maybe he'll move from Dortmund. I know there's a lot going on and I'm trying to be helpful in the process and allow him a little wiggle room in terms of the national team now.
"For instance, back in November I would've loved to have him in Portugal, but the circumstances were such that it wasn't possible," Sarachan said. "The January camp wasn't going to happen. The Paraguay game he was in the thick of things with Dortmund, but now with these games coming up, I'm hopeful.
"He loves the national team and he's, I think, champing at the bit to get it right. He's just gotta get through his year and all the rest. I think he understands what his role is and will be with the national team."
If he's healthy, there's really no reason for Pulisic to miss any of the upcoming friendlies. While you can certainly make the point that it has been an emotionally taxing year for the 19-year-old, his workload in 2018 hasn't been particularly grueling, and certainly nowhere near as taxing as the stretch he faced in 2017 prior to the summer.
A year ago, Dortmund made a run to the Champions League quarterfinals and won the DFB Pokal. This time around, Dortmund's European run ended in March, and elimination from the DFB Pokal came in December. Even if Pulisic plays every minute of Dortmund's final three Bundesliga matches, he will wind up with fewer minutes and games played than he did during the same January-to-May stretch a year earlier.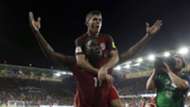 Why does Pulisic's presence really matter if the matches are just friendlies? The players who will make up the nucleus of the U.S. team's next generation need to start playing games together and Pulisic has already missed the first few opportunities to bond with that group.
In some ways, his absence in those matches may have allowed some other youngsters to spread their wings a bit and not necessarily defer to Pulisic. As much as that may have been a silver lining in Pulisic's absences, it's time now to bring him back and have him play as often as possible.
Based on Sarachan's comments, it sounds as though Pulisic is eager to return to the national team setup, but you also have to wonder whether Dortmund or Pulisic's management will be angling to have him sit some matches out.
The final say should belong to Pulisic at this point. He has established himself enough now to be able to dictate terms, and you have to think he's eager to be with a national team that will be much younger than the one he left in October, with plenty of players he knows very well.
The sooner Pulisic gets back on the field for the U.S., and back playing in some high-profile matches, such as the friendly against France on June 9, the sooner he and U.S. fans will have fresh memories to replace the painful ones from last October.