Pritam Kotal
Pritam Kotal: A TFA reject to being one of the best right backs in India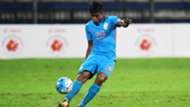 The Hooghly river divides Kolkata in two halves as it meanders right through the heart of the city. The East bank of the river has prospered in leaps and bounds whereas the West bank has always lagged behind its richer cousin. Serendipitously, India's current number one right back Pritam Kotal hails from Uttarpara which is located right on the west bank of the Hooghly. Though a family which could hardly meet their ends, Kotal's parents were football aficionados and dreamt that their son would go on to play for Mohun Bagan and the Indian National team. 
"My father was a goalkeeper but for many reasons, he could not make it big. He used to take me to watch the Kolkata derby from a very small age. I still remember that I fought with my family and went to watch Mohun Bagan play in an IFA Shield match," reminiscied Kotal in an exclusive chat with Goal. 
Kotal got his first football boot when he stepped into secondary school but once those started wearing out, he did not have money to replace them with a new pair. He started his career in a local club, Uttarpara Netaji Brigade, under the watchful eyes of Anup Nag. Interestingly, in his formative years, he was a central midfielder and he even joined Wari AC, a first-division club which plies its trade in the Calcutta Football League (CFL), as a middle-half. 
Kotal went for the India U-19 trials and registered himself as a centre midfielder. But Colin Toal, the then U-19 chief coach, after watching him, directed him to play as a right back instead.
"I don't know why he did that but I am thankful to him. I must also admit that while I was adapting to my new role as a right back, I faced a lot of problems. It demands an altogether different skill-set than that of a central midfielder. Under Anup da, I always practised as a midfielder. I had to change my style altogether. I used to call up Anup da from the camp and ask for guidance. Colin Sir also helped me a lot. It remains the most difficult but most productive learning curve of my career. Colin sir helped me better my positioning and also the timing of my overlaps. 
"But gradually I made that position my own. While playing for Pailan Arrows I have played as a stopper, left back and right back. That made me a versatile defender and now I can slot into any position at the back without any difficulty," revealed Kotal.
There was no stopping the right back after that and within two years he was promoted to the U-22 India side. But very few know that he was rejected not once but twice by the famed Tata Football Academy (TFA).
"I was extremely disappointed when TFA rejected me. It was and remains one of the best academies in India. It was my dream to train at TFA. When I failed in my second attempt as well it made me more determined. I started practising under Anup Da in Uttarpara twice a day for 6-7 hours. I had to improve my game by working hard and I remained resolute. 
"Till now I practice with the Netaji Brigade in the off-season. I would like to thank Sanjoy Chakraborty, secretary of Netaji Brigade, who helped me a lot when I was struggling financially. He has a huge contribution in my development as a footballer," said Kotal. 
It is an open secret that the former ATK player is a Mohun Bagan supporter and as a child, he would skip studies to go and watch his favourite team play. 
"Next day was my mathematics exam. But I still went to watch a Mohun Bagan match. My childhood hero is Deepak Mondal. I still talk to him and take tips from him."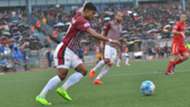 Although Kotal misses his days as a Green and Maroon player he still stands by his decision that it was best for his career to join the Indian Super League (ISL). 
"It was a difficult choice to leave Bagan. But I had to make it for the sake of my career. In ISL, we often get to visit European clubs and train with their first teams. It is an enriching experience to train under the foreign coaches that are roped in by the ISL clubs. If I had not joined ISL, I would not have been able to share the same dressing room with David Trezeguet. His way of preparing before a match is something to learn from. But it was a different feeling to play in front of the passionate Kolkata fans."
Dynamos had a disappointing season in ISL 4 as they finished eighth with 19 points from 18 games. They failed to make a mark in the ensuing Super Cup as well when they were defeated by Churchill Brothers in the qualification stage. Kotal's individual performance had also taken a dip.
"Football is a team game and your individual performance depends on the team as well. We had a young team. Players like Vinit Rai, Lalrinzuala Chhangte and Nandha Kumar played for the first time in ISL. So it was a bit difficult in forming a robust team combination. Unfortunately or foreigners also took time to settle. But this time we will have better understanding as we are continuing with most of the players and I hope that we can perform better," said the Dynamos skipper who rates Miku and Udanta Singh as the deadliest pair in ISL. 
But his performance soared in the recently concluded Intercontinental Cup where he justified the trust put in by head coach Stephen Constantine. 
"I cannot thank him (Stephen Constantine) enough for the trust he shows in me. He takes care of every small detail and rectifies my mistakes. We were treating the intercontinental cup as a stage to prepare for the Asian Cup. We have achieved our immediate target by winning the cup."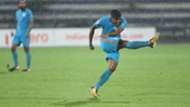 India are set to lock horns with Saudi Arabia later this year who conceded five against Russia in the world cup opener. But the 24-year-old defender opines that a tough test awaits India when they will face each other.
"It will be wonderful if we get to play against Saudi Arabia.  When they concede five goals against Russia, a team which is playing the world cup by the virtue of being the host nation, shows the difference in the quality of football between them and Russia. And Saudi is considered as an Asian giant. So this shows how much we have to improve to get our game at par with other Asian countries," expressed Kotal. 
Kotal has picked England and Belgium as the dark horses to make the semi-finals in the ongoing world cup along with tournament favourites Brazil and defending champions Germany. Although the India international is yet to miss a single minute of the world cup he has not failed to turn up at his childhood stomping ground to keep him in shape.
"I go to the Netaji Brigade ground to do light training everyday. I practice 30-40 minutes of crossing. After the Intercontinental Cup, I had discussed my mistakes with Stephen Sir and our video analyst. I am trying to rectify them. We have to do well in Asian Cup," he signed off.