Premier League
Premier League Review, brought to you by Football Republic - Spirited Liverpool hit Arsenal hard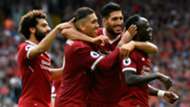 It is still early in the season, but on the evidence of the three rounds of matches that have taken place so far, Arsenal's performances have progressively dropped.
The opener was a hard-fought 4-3 win against Leicester City – at home. It was followed up by a 1-0 loss to Stoke City. But on Sunday, in the new Premier League year's first marquee clash, the Gunners were dismantled and humiliated by Liverpool, losing 4-0 at Anfield.
So dismal was the performance by the away side that, despite pipping Liverpool on possession (51-49), the visitors failed to register a single shot on target – the first time since October 2014. It's a result that has reopened the debate regarding veteran manager Arsene Wenger's command over the squad, especially since his starting 11 itself had glaring misses on paper.
The two summer signings -- striker Alexandre Lacazette and defender Sead Kolasinac -- were left on the bench. One would suspect the two players were brought into the side to feature in the big matches, yet only the French forward was granted some game time after coming on as a second half substitute.
To Arsenal's benefit, Alexis Sanchez was made available after recovering from injury. True to his nature, the tenacious Chilean worked hard, even creating the first real opportunity for his side when he set up Danny Welbeck. But there was not much he could do alone, particularly when Granit Xhaka, Mesut Ozil and Aaron Ramsey lost the midfield battle to Georginio Wijnaldum, Emre Can and skipper Jordan Henderson.
Liverpool, in turn, is a side that is steadily building in momentum. A 3-3 draw against Watford in their opening fixture was followed by a 1-0 win over Crystal Palace, and then the decimation of Arsenal.
Brazilian forward Roberto Firmino opened the scoring in the 17th minute, giving him a goal in each of his Premier League matches against Arsenal at Anfield. The lead was doubled in the 40th minute when Sadio Mane struck for the hosts.
In the second half, during an Arsenal corner routine, the ball was cleared and the Gunners' only defender who stayed back, Hector Bellerin failed to control the ball, as he was chased down by Mohamed Salah, who stormed down the pitch from deep in his own half to neatly slot beyond Petr Cech for the third. The entire move was completed in only 12 seconds.
Twenty minutes later, Daniel Sturridge came off the bench to score the fourth.
It was a game that professed the rise in stature of Jurgen Klopp's Reds, who have successfully made a return to the Champions League this season. At the same time, the warning bells rang even louder for Arsenal, and Wenger.