World Cup
VIDEO: Portugal fans not blaming CR7 for World Cup exit
Cristiano Ronaldo is not to be blamed for Portugal's 1-2 defeat to Uruguay in their Round of 16 clash in the 2018 World Cup on Saturday, feel the fans. 
After the game at the FIsht stadium in Sochi, fans were seen venting their opinions at Portugal's apparent lack of threat up front. However, the fingers of blame never went towards the Real Madrid star, instead most of the fans accepting that the team has not supported him.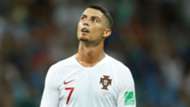 Cristiano Ronaldo accounted for four of the six goals Portugal have scored in the 2018 World Cup and fans feel the team wouldn't have reached this stage if it was not for him. 
The 33-year-old memorably scored a hat-trick in a 3-3 draw against Spain before netting the match winner against Morocco. 
However, he missed a penalty in their 1-1 draw against Iran and had a frustrating outing against Uruguay with Diego Godin and co. keeping him at bay with ease. 
But the star forward has been absolved of any blame by the fans.